The American Society of Nepalese Engineers (ASNEngr) has successfully concluded its 16th Annual Conference on July 29th and July 30th, 2023, at the BWI Sheraton located at 1100 Old Elkridge Landing Rd, Linthicum Heights, MD 21090. Themed "Integrating Science and Technology for Socio-Economic Advancement," this year's conference has left a remarkable mark.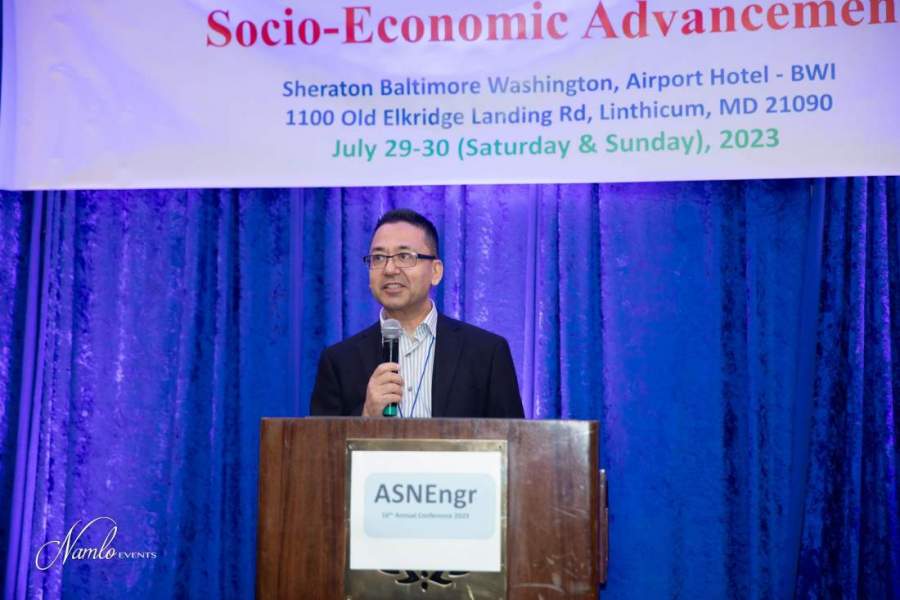 The historic event witnessed participation from over 240 Engineers, Tech Professionals, Scientists, and Students, making it a resounding success.
The Conference General Chair, Mr. Raju Joshee kicked off the event by addressing the participants. He took the opportunity to acknowledge and express gratitude to the Founding President of ASNEngr, Dr. Ramesh Malla, along with Past Presidents Mr. Jagannath Ghimire, Dr. Upendra Karna, and Mr. Thakur Dhakal, as well as New York Chapter President Mr. Om Doddharyi. The conference's sponsors were recognized and thanked. Mr. Joshee also offered a glimpse into the conference program.
Dr. Upendra Poudel, the Conference Technical Chair, presented an overview of the Technical Program. Fifteen abstracts were received by ASNEngr for presentation during the conference. Dr. Poudel listed the topics and participants of the technical presenters, extending his appreciation to them.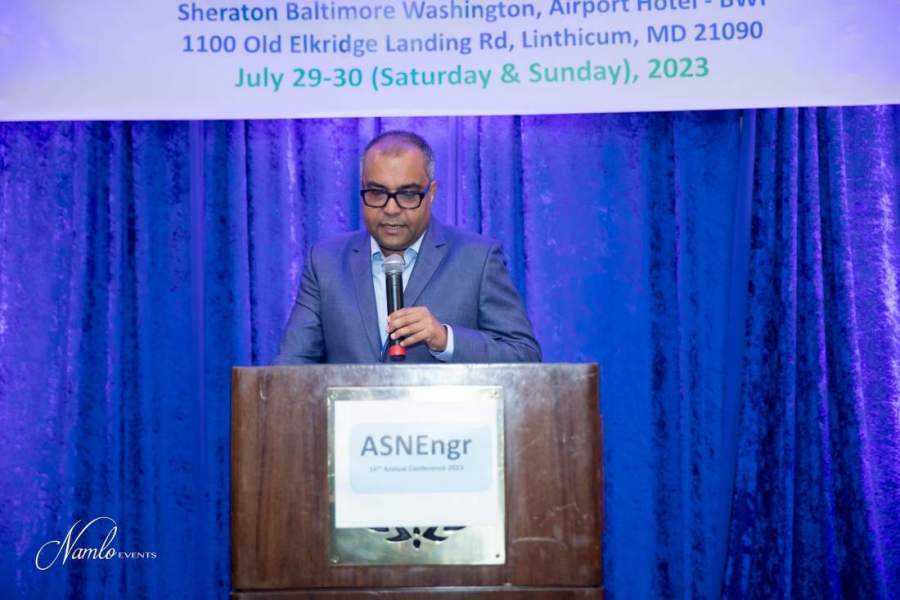 The President of the American Society of Nepalese Engineers (ASNEngr), Mr. Surya Thapa, highlighted the organization's Mission, Current Initiatives, and Future Endeavors. He outlined ASNEngr's goals and purpose, shedding light on ongoing initiatives like Scholarships, Monthly Webinars, and Annual Conferences. He also shared the organization's future vision.
Mr. Thakur Dhakal, the Immediate Past President of ASNEngr, outlined the organization's achievements. He provided insights into the growth trajectory of ASNEngr, focusing on its accomplishments across various domains.
Mr. Ghanashyam Paudel, Member of External Affairs and Past President of the Society of Nepalese Engineers UK, extended his congratulations to ASNEngr on its 16th Annual Conference.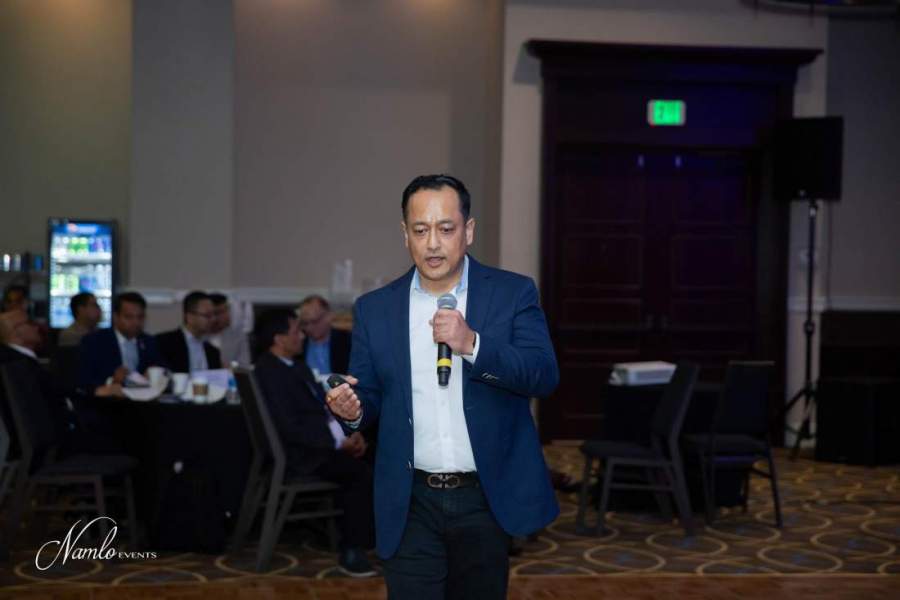 The Chief Guest of the conference, Deputy Chief of Mission of the Embassy of Nepal in Washington DC, Mr. Kumar Kharel, delivered an address emphasizing the importance of fostering international collaborations and knowledge exchange in the engineering and technology domain. He urged Nepalese Engineers, Scientists, and Technologists around the world to share their knowledge for the benefit of Nepal.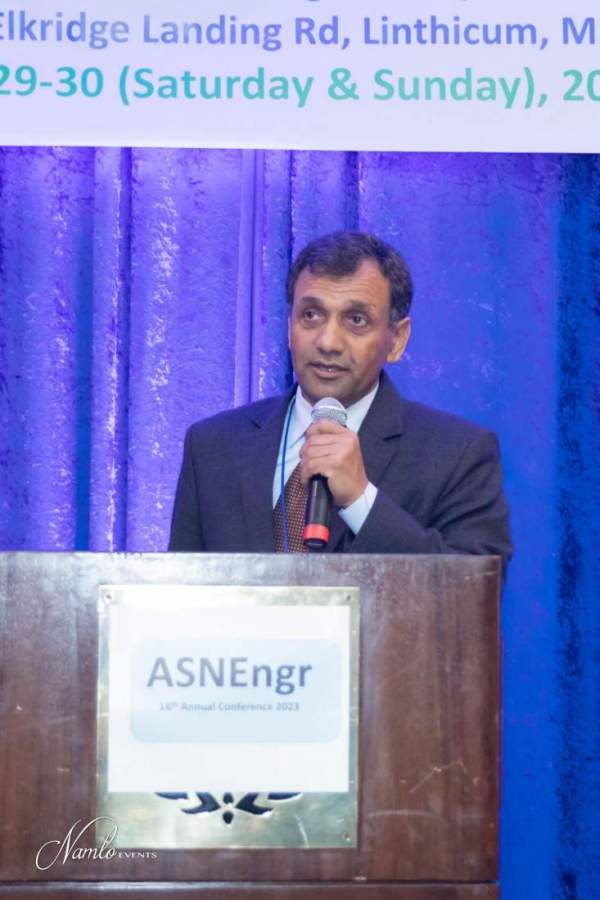 Distinguished Guest, Delegate Harry Bhandari, Ph.D., Maryland State Delegate and Chair of Maryland Legislative Asian-American & Pacific-Islander Caucus, addressed the conference. He shared his inspiring journey, encouraging professionals in the engineering, technology, and scientific sectors to embrace education, resilience, and community support as pillars of success. His message resonated with the audience, emphasizing engineers' role in shaping a better future.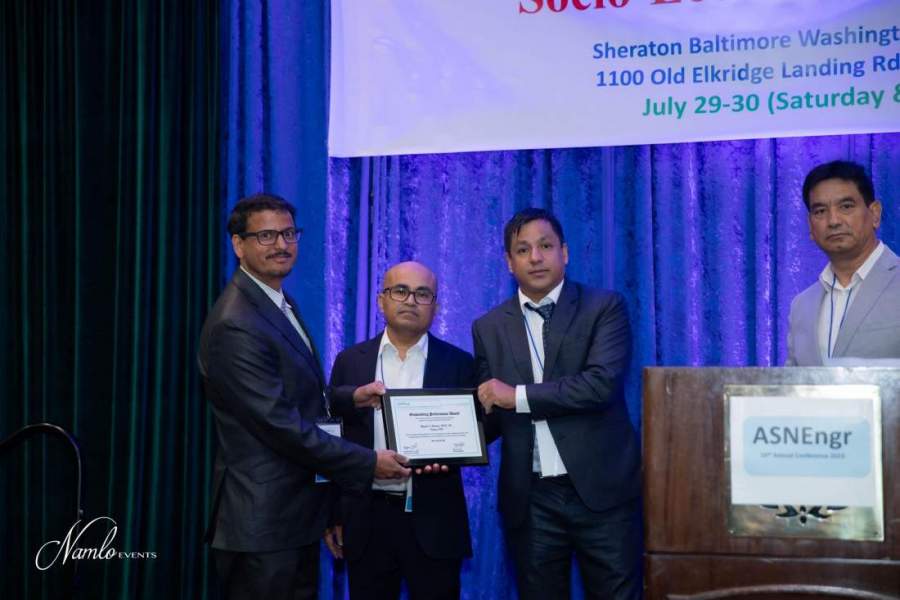 Mr. Mangal Maharjan, ASNEngr Vice President, announced the recipients of this year's Leadership Award and Outstanding Performance Award. Mr. Thakur Dhakal was honored with the Leadership Award, and Mr. Shyam L Sharma, PhD, received the Outstanding Performance Award.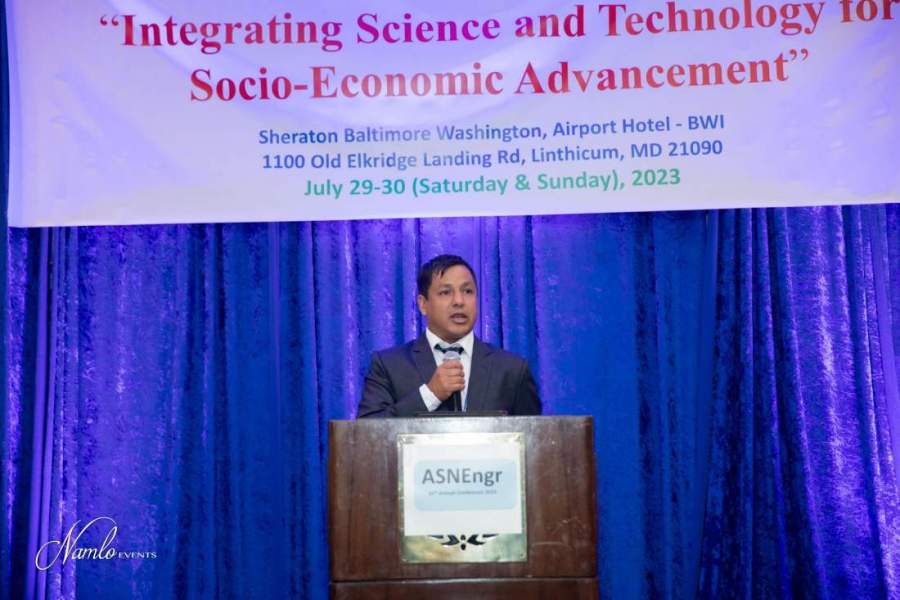 The Technical Session 1, themed "Engineering and Construction," was chaired by Mr. Thakur Dhakal and Mr. Krishna Prasad Dhakal. The session featured the following presentations:
"Water, Energy, Food, and Ecosystem (W-E-F-E) Nexus River Basin Development Policy Paradigm for Multisector Infrastructure Development of Nepal" by Gopi Upreti, PhD
"Managing river basins under the federal system of governance in Nepal" by Sanjay Giri, PhD
"Challenges in Federal Emergency Management Agency (FEMA) Floodplain Modeling and Mapping" by Vinod Mahat, PhD, PE, CFM
"Strengthening of Concrete Column: Which way to choose?" by Utsab Pokharel and Shradha Koirala
The conference was graced by a keynote speech from Mr. Arun Shrestha, CEO and Co-Founder of BeyondID, Inc. As an Apex partner of Okta, BeyondID is a Managed Identity Services Provider. Mr. Shrestha's speech recounted his journey from Nepal to the USA and his evolution in the realm of innovation. He traced the rapid evolution of technology from Client-Server to Web 1.0 and the present Web 2.0 era, while also looking ahead to Web 3.0. He inspired the audience, particularly aspiring engineers and technologists, with the multitude of opportunities that lie ahead.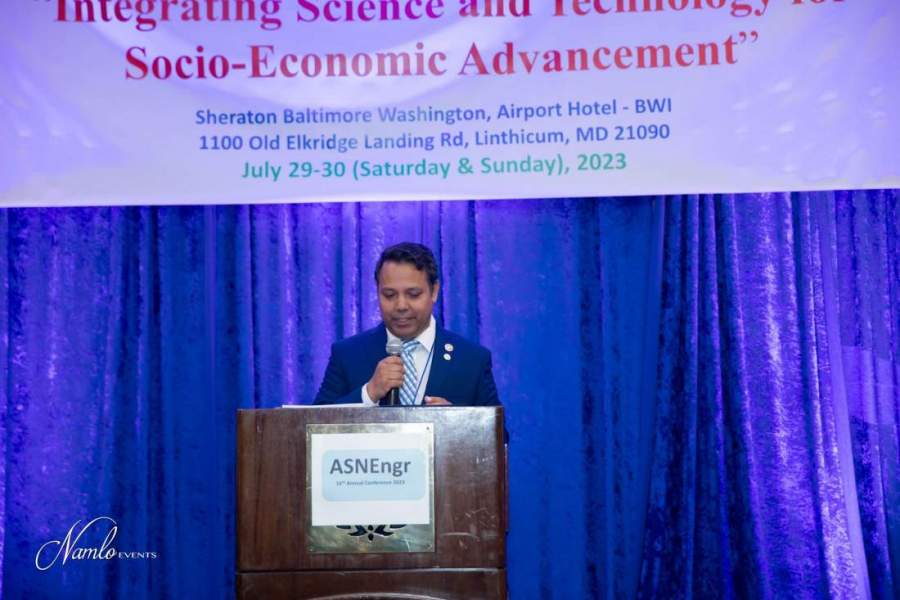 During the lunch break, young engineer Jwoyal Ranjit and student Priyasha Itani presented their research posters, both receiving accolades for their high-quality work.
Technical Session 2, centered around "Engineering, Data Analytics, and Management," was chaired by Mr. Ranjan Pokharael and Mr. Bhaskar Joshi. Presentations included:
"Real-time Low-cost Wireless Joint Monitoring System for Highway Bridge Performance" by Prakash Bhandari, Shinae Jang, Song Han, and Ramesh B. Malla
"Security in Private 5G Networks" by Jiwan Limbu Ninglekhu, PhD
"Data Analytics – Construction Engineering" by Aashish Pathak, P.E
"A unified science of matter, life, and evolution" by Ram C Poudel, Ph.D.
A highlight of the conference was the Fireside Chat moderated by Ms. Shubha Adhikari and Ms. Kritishma Shrestha. The participants, including Dr. Deepak Shrestha, Mr. Kris Ghimire, and Mr. Kul Acharya, engaged in an insightful discussion. The chat covered diverse aspects of success, including seizing opportunities, managing risks, and achieving goals.
Technical Session 3 focused on "Energy, Production, Distribution, and Management" and was chaired by Mr. Dilli Raman Neupane and Mr. Deependra Pokharel. The session featured presentations on:
"Virtual Power Plants: Harnessing Distributed Energy Resources for Grid Flexibility" by Santosh Dhakal, P.E
"Wind energy as a source of green hydrogen production in the USA" by Rabin Dhakal, PhD
"Floating Solar Photovoltaic System in Nepalese Context" by Bijaya Paudyal, PhD
The day concluded with a productive Happy Hour and Networking Session, fostering meaningful interactions among professionals, students, entrepreneurs, and attendees.
The evening unfolded into a dinner program, followed by a cultural extravaganza and DJ night. The Cultural Program featured captivating performances by various artists, contributing to the vibrant atmosphere. Artists such as Jiwan Ninglekhu and Caroline Ninglekhu, Priyasha Itani, Nirajan Aryal, Sashi Dahal, Sunita Amatya, Anjali Dhakal, Pooja Thapa, Nisha Itani, Jotsana Misra, Rani Shakya, Thalur Dhakal, and Janak Thapa added fervor to the celebration.
ASNEngr would like to thank the sponsors of the event. Please visit our website for the list of sponsors. We would also like to thank eNepalese.com for providing mass media communication along with live broadcast of the event, Galaxy Event for organizing the audio and visual system, DJ Dinesh Gurung for the sound system, Namlo Events for photography, Nepa Pasa Pucha Amerikaye (NPPA) for helping registration and all the volunteers.
The second day, July 29th, saw the Annual Membership Meeting, attended by ASNEngr's Executive Team, Board of Directors, Advisors, and Conference Team. Discussions included a comprehensive conference evaluation, feedback, and general topics. With this meeting, the 16th Annual Conference came to a close.
The even photos are available on our website and Facebook.
For more information, please contact: