Ritto Gaun: A Heartfelt Nepali Documentary short film set to release globally
Enepalese
Published on: September 16, 2023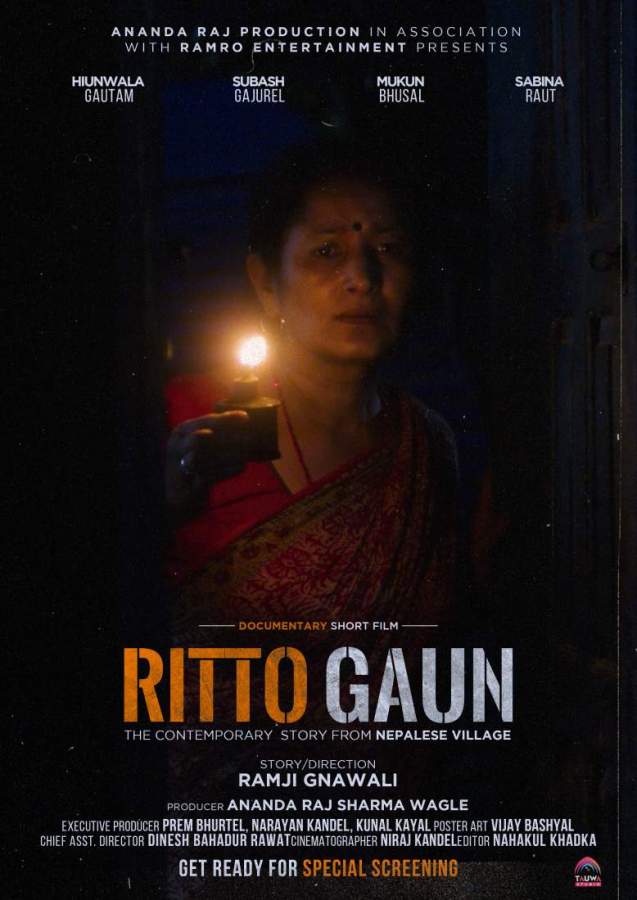 The first look poster of the documentary film 'Ritto Gaun,' produced under the banner of Ananda Raj Production in association with Ramro Entertainment, has been unveiled. The poster features a woman with a tuki, she is searching for something. In the poster, only Hiunwala Gautam is featured, all the other actors are hidden.
Director Ramji Gnawali has shared that this film, centered around a contemporary narrative in a Nepali village, will receive special screenings in major cities of Nepal and abroad. He expressed, "Our village may be remote, but it harbors countless untold stories. We aim to shed light on one such profoundly poignant tale." According to Gnawali, this film is a must-see for all Nepalis, and it will be showcased in communities wherever Nepalis reside.
The release of the first look poster has generated considerable buzz. It is evident from the poster that "Ritto Gaun" seeks to profoundly depict the harsh realities experienced in many hilly regions of Nepal. The cast of the film includes popular actor Mukun Bhushal, veteran actor Subas Gajurel, and newcomer Savina Raut. The production team has made it clear that, aside from the first look poster, no promotional materials will be released. Directed by Ramji Gnawali, the assistant director is Dinesh Bahadur Rawat, and Niraj Kandel serves as the Director of Photography. Gnawali has previously produced acclaimed short films like "Darkmoon," "Honeymoon," "Aaradhya," and directed various music videos. He brings over a decade of experience in entertainment journalism to this project. "Ritto Gaun" is produced by Anand Raj Sharma Wagle and boasts Prem Bhurtel, Narayan Kandel, Kunal Kayal, and others as executive producers. Producer Anand Raj Sharma Wagle revealed that the first special screening will be held in Kathmandu, with all proceeds earmarked for the Nepali cricket team. He explained, "We are in discussions about future plans, but the funds raised from the premiere will contribute to the cricket field. We intend to allocate a portion of subsequent proceeds for social service." Sharma Wagle emphasized that this eight-day documentary film will not be immediately available on OTT Platform. The film features color grading by Rajendra Moktan and editing by Nahakul Khadka.