Ashesh aka "The Himalayan Hendrix" live in Georgia, USA
Enepalese
Published on: February 24, 2023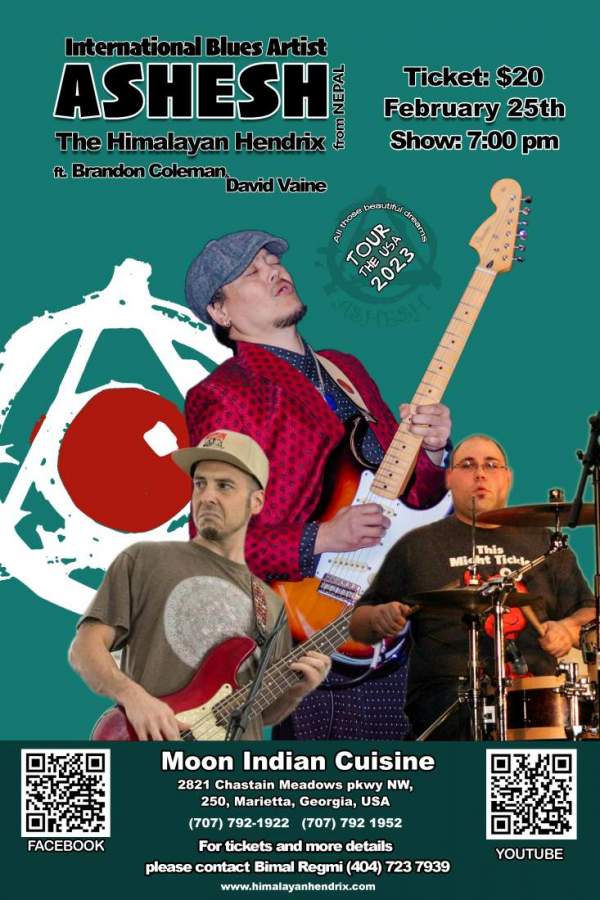 This February 25th Ashesh Dangol aka "The Himalayan Hendrix" from Nepal is putting up his power trio featuring his long time friend and Savannah based band mate Brandon Coleman and David Vaine from Georgia at Moon Indian Cuisine, Marietta, Georgia, USA. The show will start at 7 pm.
Ashesh is also going to Headline Best Dam Blues Fest 2023 this September in Milwaukee, WI. In this 2023 "All those beautiful dreams" The USA tour, he has already performed in California, Washington, Texas, North Carolina and Maryland.
Ashesh aka "The Himalayan Hendrix" has already toured in 11 different countries and more than 12 different states in The USA and Head lined many music festivals includes Alamar 2007 Music Festival, Spain; Edinburg Mela 2011, Scotland; Herzberg Festival 2011, Germany; Fauskivalen Music Festival, Hemsedal, Norway 2010/ 2011 and 2016, and many more. Norwegian and German press gave him the Title "The Himalayan Hendrix" during his Europe tour in 2010. He was awarded by Colorado Music Business Organization, Colorado for his contribution in music and social work in 2015. Nominated in Hits FM music Award in 2010 and 2016 in various categories. He has also Judge many musical competition including Battle of the Bands, UK in Nepal. Have also worked as a music teacher in School of Rock, USA. Have 6 music album and currently in 2022/ 23 "All Those Beautiful Dreams" The USA tour. He is also the front man of the legendary band "Nekhvam" which was formed back in 1994.