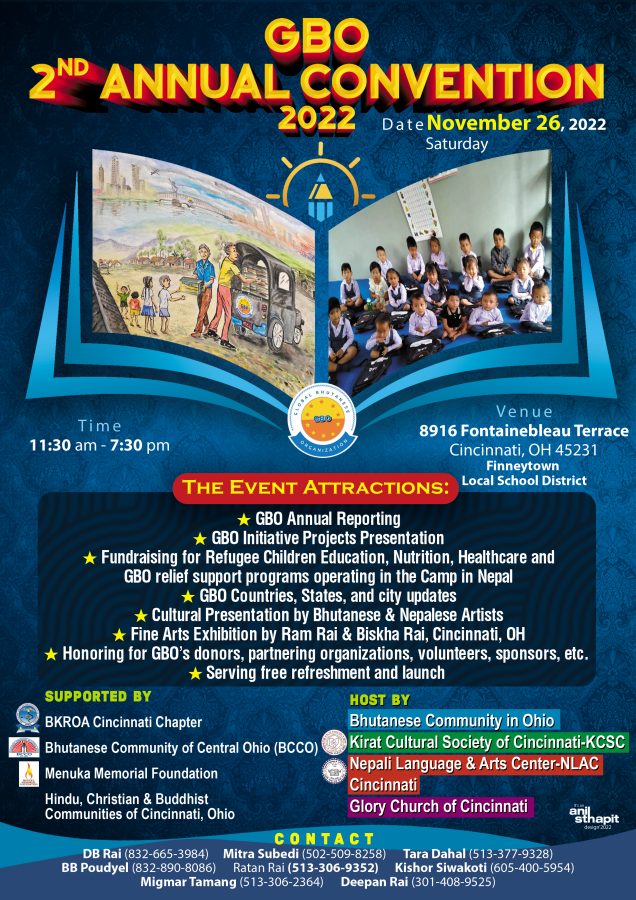 The Global Bhutanese Organization-GBO, has decided to hold its 2nd Annual Convention 2022 in the city of Cincinnati, Ohio, United States, this year, on Saturday, November 26, 2022. The event isjointly hosted by resettled Bhutanese Communities in Ohio, Kirat Cultural Society of Cincinnati KCSC, Nepali Language & Arts Center-NLAC, Cincinnati, Glory Church of Cincinnati and, supported by Bhutanese Kirat Rai Organization of America (BKROA) Cincinnati Ohio Chapter, Bhutanese Community of Central Ohio (BCCO), Menuka Memorial Foundation, Cincinnati, Hindu, Christan and Buddhist Communities of Cincinnati, Ohio.
To spearhead and accomplish the task of holding this convention, the GBO has formed the Convention Program Organizing Committee at the State & Nation level led by DB Rai, Mitra Subedi, Tara Dahal, Ratan Rai, BB Poudyel, Deepan Rai, Migmar Tamang, Kishor Siwakoti, Damber Rai, Sudarshan Pyakurel ,Hasta Wakchalerai, Ps. Peter Acharya, Mamta Bajagai, Kubir Tiwari, Suraj Gurung, Ps. Mani Rai, Raaz Khambu, Som Dhakal, Jhalak Adhikari, Ashok Gurung, Chandra Sitaula , Biswaz Gurung, Binay Luitel, Bhim Gurung, Taran Tiwari, Bishnu Khadka, Ganga Tiwari, Harka Subba, Draupadi Pradhan, Shiva L Dahal, Indra Gurung, Deepak Giri, Shanta Monger, Denzome Sampang, Purna Gurung, Janga Kalikotey, Mukesh Gurung, Jaganath
Adhikari, Anand Bista, Ranjit Pradhan, Arjun Pradhan and Prabesh Mahat.
The Convention Program Organizing Committee will reach out to the community organizations, local government representatives, business entrepreneurs, donors, artists, and community members through various means and media with its program detail and invitation for the convention as early as possible for initial promotion of the event.
The Event attractions are GBO Annual Reporting, GBO Initiative Projects preparation, Fundraising for Refugee Children Education, Nutrition, Healthcare, and GBO relief support programs operating in the Bhutanese refugee camps in Beldangi, Damak, Jhapa and Pathari Sansischare, Morang, Nepal, GBO Countries, States, and Cities updates, Cultural Presentation by our emerging Bhutanese & Nepalese artists, Fine Arts Exhibition by Ram Rai & Biskha Rai, honoring for GBO's donors, partnering organizations, volunteers, sponsors, State host activities, and much more.
The Global Bhutanese Organization-GBO in collaboration with the eight resettled Bhutanese Communities, Australia, Canada, Denmark, Netherlands, Norway, New Zealand, The UK, and the USA, has been facilitating financial support for Early Childhood Education Program, ECDC
Beldangi, Shree Batika Bal Bikash Kender, Pathari Sanischare Camp, Healthcare service, disaster management & relief support programs from 2020. So far, GBO has funded over 9 million and 300 thousand Nepalese Rupee to GBO initiative humanitarian projects operating in the camps with the help of consolidated generous contributions from partnering organizations, stakeholders, donors, and every individual. After the resettlement of Bhutanese refugees, this is the first time in history, more than 56 profit, Non-profit, faith base & cultural organizations, and many individuals helping hands has extended their solidarity and financial support to GBO initiative projects. Current programs under these projects:
• Early childhood education to 300 children ages 3-6 years going in 2 schools namely ECDC Beldangi School and Shree Batika Bal Bikash Kendra School in Pathari Sanischare camp. Grades include playgroup, Nursery, Kindergarten, and Grade One.
• Construction of a school building in Pathari Sansischare camp.
• Construction of dining & waiting room for ECDC children in Beldangi in memory of Lt. Dr. Bhampa Rai.
• Providing employment for 22 working staff in Jhapa & Morang, Nepal. •
Provided relief support to many vulnerable families during disaster and grieving situations in camp on various occasions.
We're so grateful and thankful with all partnering organizations and donors for their generous donations to keep up services live in the camps and, looking for continued support going forward. We greatly appreciate and salute GBO global volunteer team members for their immense dedication and contributions to drive the mission of GBO globally. The GBO and State Host Organizing Committee urge everyone in the Bhutanese community diaspora to provide your support of sponsorships, innovative ideas, valuable suggestions, and request for generous
participation on how we can conclude this convention with a note of success. Thank you.
Sincerely,
Mr. DB Rai
GBO President /Executive & Project Head
Head Office, Cincinnati, Ohio, USA
Phone # (832) 665-3984