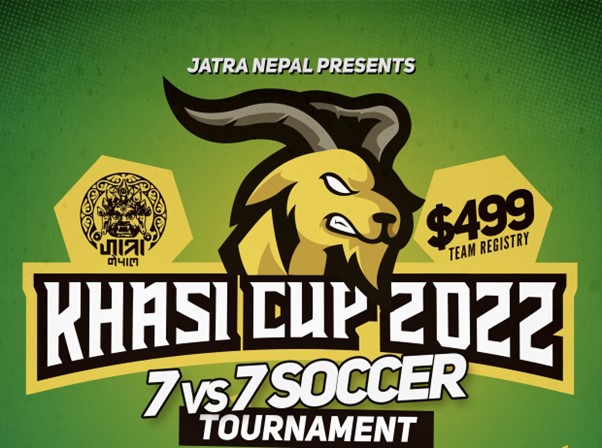 As Nepalis all over the world prepare to celebrate Dashain, the grandest festival of all festivals, Nepalis in Boston will have an opportunity to pre-game their festivities this weekend at the annual football tournament, Khasi Cup 5th Edition.
Organized by Jatra Nepal, a group of Nepali young minds engaged in promoting Nepali arts and culture in Boston and Greater New England, this annual football tournament is one of the most popular, and competitive, tourneys in the entire east coast of America.
This fifth edition of Khasi Cup is on Sunday, August 24, at Danehy Soccer Fields, Cambridge and the coveted trophy will be coveted by 19 teams from all of New England, including Massachusetts, New Hampshire, and New York.
Bhim Gurung of Jatra Nepal, says the Khasi Cup — named after GOAT, the animal —  is a way for us to connect with our celebrations back home and an opportunity to bring together Nepalis spread across many communities together for a day of rejoice and some good-natured competition.
The winners of the tournament will bag a total prize of $3,000 while the runners-up will be awarded $1,000. With plenty of prize money at stake, and an opportunity to burn a lot of calories before adding it all up and more during Dashain, players will undoubtedly play their best, so this makes for a exciting tournament ahead.
Games are free to the public and will start at 8 a.m. and will continue all day until the lights come on and there's a new champion in the city. So if you're in Boston, or in the Greater New England region, perhaps plan a day trip to watch some really exciting football, and celebrate Dashain a little early this year.