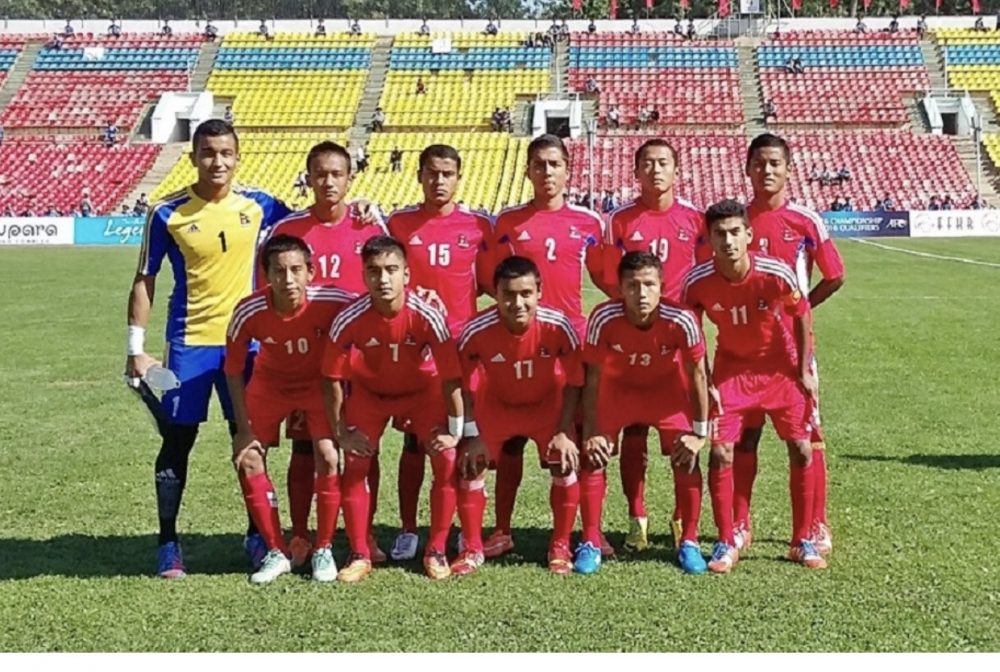 A promising start went in vain as the men's Under-20 national football team of Nepal campaign ended in disappointment in the South Asian Federation Football Under-20 Championship in Bhubaneswar, India.
Needing an outright victory by a margin of more than two goals in the crucial final match against Bangladesh,they barely managed a 1-1 draw.
The match was marred by frayed tempers and unsportsmanship,resulting in the sending off of players from both sides.
The teams were reduced to ten players.Additionally,a substitute player(Nepal)on the bench also was red carded.
In retrospect,Nepal's performance against the Islanders did not rise to the level as we would have liked,however,they played relatively well,especially following a disastrous result against India.
The performance was not good enough to overcome the odds stacked against them to secure a place in the final.
It was a make-or-break game for Nepal.The need of the hour was to play with heart and a cool head.
There was virtually no room for unnecessary mistakes that could backfire and instantly change the complexion of the game.Unfortunately, they failed to do so.
Probably,the end result could have been different and to their favour,had they maintained discipline,confidence, composure and not let emotions get the better of them.
Despite everything ,there are positives to be taken going forward.There is plenty of room for improvement. It is indispensable that they learn from their mistakes to improve their performance and become better players.
This is just the beginning of a long football career ahead of them.They have to stay focused,committed, disciplined, train harder and take their game to the next level. A lot of this is achievable and doable.
By and large,in my view Team Nepal had a reasonable tournament in terms of performance and result.
The embarrassing defeat at the hands of India proved to be the turning point in the competition for Head Coach Meghraj KC boys at the end.
One bad match made a big difference, hindering their progress to the final. It would be unfair to overlook their spirited and fairly impressive performances in three matches.
Unquestionably, the youngsters can perform to a much higher level.They certainly have the potential and skills to do it.
The tournament provided them a perfect platform to showcase their skills and draw national selectors attention.
Above all,they got the much needed exposure,valuable experiences and opportunity to learn the finer points of the game and hone their skills.
It is very important for players to assess their own performance,work on their weak areas and make changes as per the need.They have to carry the desire to succeed.
Coach KC must thoroughly analyze and evaluate the team's performance with the ultimate aim of enhancing future performance.
Apart from that, he needs to evaluate every player's performance and progress based on technical skills, team commitment,game performance and physical and mental state.
He has to self-evaluate his tactical, technical and psychological preparation for the tournament as well.
A bigger challenge and bigger stage awaits Nepal in the AFC Under-20 Asian Cup Qualifiers taking place in Bahrain starting September 10 to 18.
The rising stars get yet another opportunity to dazzle and deliver on a bigger platform. They must prepare themselves physically and mentally for the challenge.
In modern day football,the importance of mental toughness and resilience cannot be emphasized enough.Young players in particular must up their mental game to deal with success and failure.
Nepal alongside Bahrain, Qatar,Bangladesh and Bhutan are in Group B of the competition.
It is very obvious that Team Nepal will require a vastly improved performance to become competitive and have an impact on the tournament.
Congratulations India for successfully defending the title.They romped home in style by defeating Bangladesh 5-3 in extra- time in the final match.
-By Sushil Thapa,Fairfax,VA