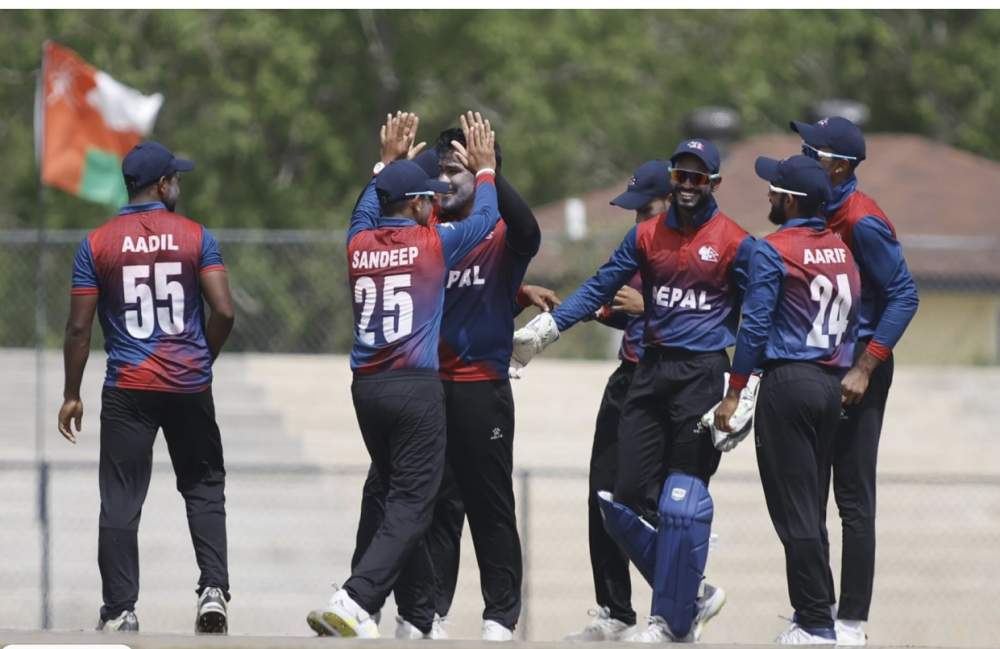 Finally Nepal turned in a good performance to stun hosts Scotland by 5 wickets in the secondmatch of the ICC Cricket World Cup League 2 in Scotland Wednesday.
Following a disappointing loss to Namibia in the opener,Nepal bounced back with anencouraging victory against the home team.The win was comprehensive and convincing.
Once again the bowlers laid the groundwork for victory.After winning the toss, Nepal elected to field first and in no time had the opposition on the back foot.
The pace attack took full advantage of the seam -friendly conditions and wreaked havoc on batsmen. Right-arm fast -medium bowler Sompal Kami made the early breakthrough and went on to capture three wickets.He bowled with precision and generated extra pace to torment batsmen.
The new kid on the block 18 year old Aadil Ansari had an impressive 10 over spell.He mantained good pace, line and length throughout .He claimed 3 wickets for 31 runs. And Skipper Sandeep Lamichane ended up with two wickets.
Nepali bowlers maintained relentless pressure on batsmen and reduced them to 95 for 9. However,like previous matches, they allowed the defiant last wicket partnership add 49 runs before mopping up the innings in 42.5 over for a paltry total of 144.
Nepal's fielding and close-in- catching was up to the mark and contributed significantly to the team's success.
Despite a modest target,given the team's inconsistent batting record there was no guarantee that they could seal a victory outright. They required a solid disciplined,consistent committed and intelligent batting to avoid another disappointment.
On the day, they rose to the challenge and delivered the result.Right – handed wicket keeper and top scorer Aasif Sheikh cracked a blistering 71,which featured 10 fours and one huge six in just 62 balls.
Middle-order batsman Rohit Paudel batted sensibly and steadied the innings with a well struck 34 runs with the help of five fours.
Opener Kushal Bhurtel who shared 47 runs partnership with Sheikh contributed a laborious 27 with 4 hits to the boundary.The winning run was scored in the 25.1 overs much to everyones relief.
Wito a doubt, there is plenty of scope for improvement in every department of the game.Players must find ways to address their weaknesses and improve performance. It is imperative that they effectively perform as a unit in the upcoming matches.
Nepal plays Namibia for the second time on Saturday.
They cannot afford to repeat the same mistakes to avoid another loss.
They need to maintain a razor sharp focus,confidence, positive mind set,beleive in themselves,get the fundamentals right and play to their potential.
Cricket is a team game but individual performance counts and makes a huge difference at the end of the day.Each player must stand up to the challenge and deliver the goods.
A solid batting performance and consistency remain keys to success for Nepal in the next two matches against Namibia and Scotland.
-By Sushil Thapa,Fairfax,VA