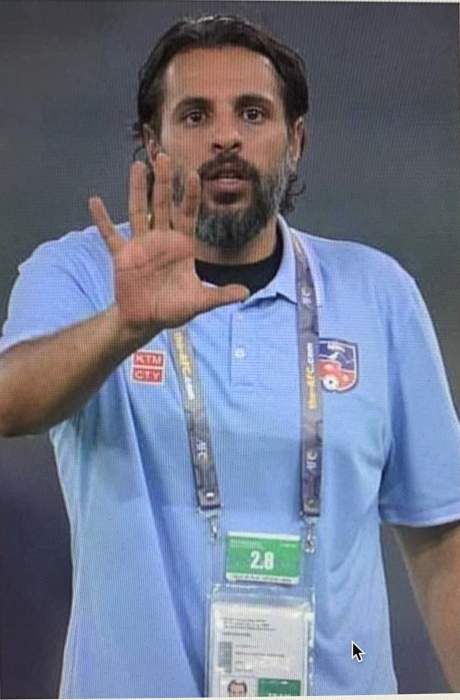 All Nepal Football Association had formed a three-member task force to investigate the ugly and unfortunate feud between Kuwaiti Head Coach Abdullah Almutari and players who left theclosed camp.
The task force was entrusted with the duty to initiate and conduct fact-finding queries in order to get to the root of the dispute.
The task force headed by former Nepal Army Chief Victor Rana made their findings publicrecently. Former international Bidur Bista and Vice -President of Nepal National and International Sportsmen Association Deepak Thapa were the other two members.
The findings came as no surprise to me.Hopefully the task force was honest and thorough in their investigation.
In the report,they pointed out that both parties were at fault and have made recommendations for appropriate resolutions.
They held protesting players accountable for indiscipline.irresponsibility and misconduct.They made it very clear that they would be welcome back to the national team unless they assured that this won't happen again.
Also the report warned players that this type of behavior would not be tolerated and accepted,which has no place on the team regardless.
Selling the story to the media was a blunder on part of the players. The dispute could have been amicably resolved had they addressed their concerns and grievances to All Nepal Football Association(ANFA) instead the report stated further.
The report recommends a new head coach for the national team.The finding revealed the Kuwaiti's autocratic leadership style and held him in contempt for bypassing the chain of command,
Furthermore, the Kuwaiti was found to have overstepped the professional boundary between players and coach.
The report highlights his highhandedness, the use of abusive language and misconduct towards players, which is outrageous and unacceptable..
This is not the first time the Kuwaiti has been in the news for the wrong reason.In fact,he has a history of controversies.
This is just the latest in a long list of controversies
Be it his infamous spat with ANFA Vice-President Pankaj Nembang or his unnecessary Facebook postings or his threat of quitting or stopping players from speaking to the media in a press meet or his demoralizing statement about Nepal's zero chances in the 2023 Asian Cup
Qualifiers.
Going by the report,it is no exaggeration to say that the Kuwaiti clearly lacks traits of a good coach.His actions speaks for itself.He has put down players and is doing disservice to Nepalfootball.
His problems are self-inflicted.Whether he learns from his mistakes or not is yet to be seen. I very much doubt it.
I strongly feel, given his attitude, haughtiness, arrogance, unprofessionalism and confrontational behavior,there is no place for him in the national team.
When it comes to discipline in players or coaches or officials,it must never ever be compromised. I fully agree undisciplined players have no place in the team.
That said, players have every right to voice their grievances to the management.The right approach is communicating with the head coach first,which they did.
The coach must be open to honest dialogue with players. He has to assess and evaluate the grievances and do what he can to address it
Of course, in this case he is not responsible for housing and food quality.However, as a responsible coach he should have listened and interacted with players in a professional manner.
He could have discussed the matter with ANFA.He did none of it.Instead he foolishly chose to display his dictortrial behavior and confront players.
Keep in mind, be it any sport, trust between athletes and coaches is of paramount importance all the time and necessary for successful coaching.
ANFA's timely intervention could have helped diffuse or avert the situation.Shamelessly they turned themselves into mere spectators,letting the dispute go from bad to worse.
ANFA under Mr.Karma Tsering Sherpa has been a total disaster when it comes to good governance and sound management.
Obviously,ANFA is the root cause of problem in Nepal football.Long as it is run by incompetent,unprofessional,unqualified and politically motivated people and opportunists,the issues plaguing Nepal football will continue unabated,sadly.