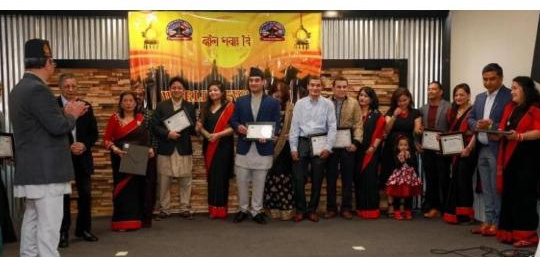 नेपा: पासा पुच: अमेरिकाय्नंदँय्दसंह्वना च्वंगु संिक्षक व जिवंकाजि दुि: हनेज्या व न्याक्व:गुहज ंनेवा: जदंया ज्याझ्व: शजनवा:, जचल्लागा नवमी कु न्हु अमेरिकाया भजििजनयाय्ह्वन । हज ं नेवा: जदंया सताय्सक नेपा:जम यात जभन्तुना ।
Nepa Pasa Pucha Amerikaye (NPPA) continued the tradition of honoring its Patrons & Life Members and
celebrating World Newah Day, on Saturday, March 26, 2022, amidst a dinner and entertainment program at Tandoori Nights,Virginia, USA. About 200 Patrons and Life Members attended the event.
The program started with a traditional Newah Dhime procession that was led by the Executive Committee members.Following the Dhime Procession, National anthems of the United States and
Nepal were played.
NPPA President Mr. Manohar Shrestha welcomed the NPPA Patrons, Life Members, and special guest Mrs. Shreejana Pradhan.He briefed on the completed and upcoming programs of NPPA,introduced the NPPA Executive Committee Members, and the Daboo Team members.
The NPPA founding President Mr. Ram Malakar, recipient of the 2021 Lifetime Achievement Award from the US President Mr. Joe Biden was honored with a bouquet and Dhaka Khada by the current NPPA President Mr.Manohar Shrestha. Mr. Shrestha also honored all the Past Presidents, who were present at the event, namely
Mr. Bhagat Lal Shrestha,
Mrs. Meera Shrestha, Mr.
Laxman Pradhan, Mrs.
Saroj Prajapati, and Mr.
Raju Joshee by offering
Dhaka Khada.
Daboo Chief Editor Dr. Raju
Tamot highlighted various
aspects and significance of
NPPA's annual souvenir magazine Daboo. He also talked about the NPPA's 30th anniversary commemorative silver coin.
The World Newah Organization President Mr. Season Shrestha explained the origins of World Newah Day. He congratulated NPPA for celebrating this event from the very first year and continuing the
tradition.
NPPA's Patrons and Life Members are the main source of support for all NPPA activities. Four new Patrons and 10 new Life Members joinedNPPA. During the program, certificates and pins were handed over to the New Patrons. The following our new Patrons and Life Members:
Patrons:
1. Mr. Bam Dev Aryal & Mrs. Sumitra Aryal
2. Mr. Prashanta Singh & Mrs. Amrita Maharjan Singh
3. Mr. Samip Man Shrestha & Mrs. Richel Shrestha
4. Mr. Somendra Shrestha & Mrs. Rohina Shrestha
Life Members:
1. Mr. Anugh Lall Shrestha
2. Mr. Ashish Bhadel & Mrs. Sunina Bhadel
3. Mr. Durga Lal Shrestha & Mrs. Amita Shrestha
4. Mr. Jon Kayastha & Mrs. Jyotshna Shrestha
5. Mr. Mahendra Shrestha & Mrs. Anju Udas
6. Mr. Markandeya Man Singh Pradhan
7. Mr. Rushan Dangol & Mrs. Aasma Maharjan
8. Mr. Suman Shakya and Mrs. Rejina Malakar
9. Mr. Suman Shrestha Kasaju & Mrs. Subani Dongol
10. Mr. Swayambhu Maharjan & Mrs. Bijaya Maharjan
A cultural program with songs and dances was put together to entertain the Patrons and Life Members. The songs were performed by Mr. Prabin Tamrakar (Surya Sumadhur), Mr. Prashanta Singh (Maicha & Thau Kanhe), and Mr. Sudin Amatya (Swa Lise Swaye Maga & Sun Kai Bhau Chha). A duet dance was performed by Ms. Sunita Amatya & Mrs. Pratima Shrestha (song Chhu Ju Chhu Ju) and a solo dance was performed by Ms. Lujala Ranjit (song Haku Maicha).
First Vice-President Mrs. Shanti Shrestha thanked the Patrons, Life Members,sponsors Classic Diamond & Jewelry and Air Zone Travels, venue provider Tandoori Night, and all the community members. She also thanked NPPA Adviser Mr. Buddha Maharjan and Mr. Salyan Shrestha for playing the traditional Dhime music during the procession. NPPA appreciates Mr. Budhendra Joshee for providing the Dhime & Bhuchhya for the event.
Mrs. Shrestha appreciated the help of Mr. Binesh Maharjan and Mr. Anugh Shrestha in managing the audio system during the entire event.
She also thanked Mr. Bijaya Thapa of eNepalese, the media partner of NPPA, for covering the event. NPPA appreciates Mr. Brajesh Maharjan's help in capturing the event in his camera.
The registration desk was skillfully managed by Vice President Mr. Allan Maharjan, Vice-Treasurer Mrs. Anju Udas, Daboo Liaison Mr. Prabin Tamrakar, and volunteers Ms. Kriti Tamrakar and Mrs. Radhika Duwal.
Executive Member Mrs. Ramita Maharjan helped to put together the entertainment program lineup. Executive Member Mr. Jayaswor Shrestha supervised the food department. Secretary Mr. Samip Man Shrestha and Executive Member Mr. Prashanta Singh ensured a smooth flow of
the program.
The entire program was facilitated by General Secretary Mr. SumanTuladhar (in Nepal Bhasa) and Executive Member Mrs. Niti Mathema (in English).
The NPPA Patrons and Life Members Honor Program and Fifth World Newah Day celebration concluded with a dinner program and exchange of felicitations.
Please mark your calendar for NPPA's upcoming events:
June 2022 (TBD) Fifth Youth Networking and Motivation Event (FREE ADMISSION) August 13, 2022 सा पारु Sa Paru and Annual Summer Picnic (FREE ADMISSION) At Wheaton Regional Park, MD November 5, 2022 Nepal Sambat 1143 & NPPA's 31st Anniversary Celebration For more information please contact Mr. Manohar Shrestha ([email protected]) or visit
www.nppa-usa.org.
Nepa Pasa Pucha Amerikaye (NPPA), established in 1991, is a Newah organization based in themetropolitan Washington, DC. The Nepa Pasa Pucha Corporation is a registered legal name of NPPA which is a nonprofit tax-exempt organization under the IRC Section 501(c)(3). Its primary mission is to preserve and promote Newah cultural heritage, traditions, and customs in the United States
Please click link bellow for detail :NPPA P&LM Honor & 5th WND Event-Press Release