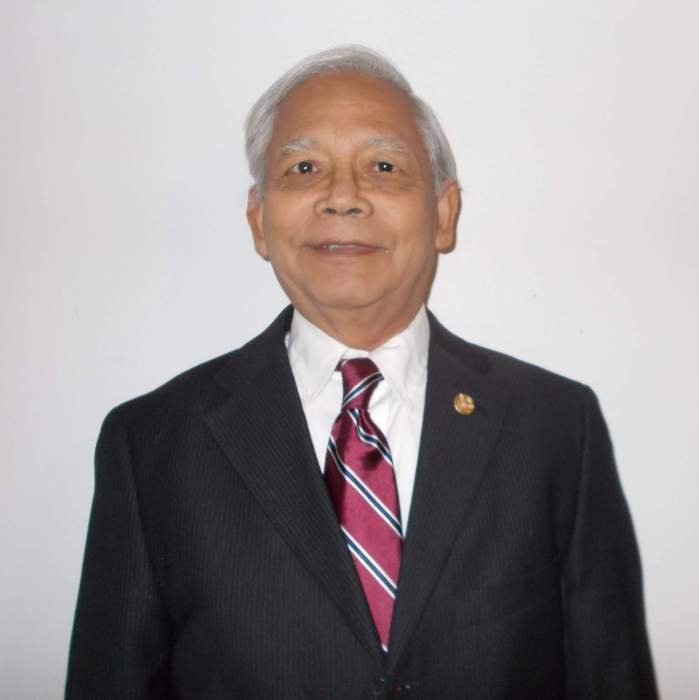 Dr. Tulasi R. Joshi, hailed from the remote Bajhang district of Nepal was recently selected by Fairmont State Foundation, the fundraising arm of Fairmont State University, West Virginia, USA, for the Fairmont State Foundation Outstanding Philanthropists of the Year award.
In a letter, the President of the Foundation states that, Dr. Joshi and his wife Marilyn Joshi are "selected this year's Fairmont State Foundation Outstanding Philanthropists of the Year." The letter further mentions:
"This award is presented to those with a proven record of exceptional generosity who have demonstrated outstanding civic and charitable responsibility, and whose generosity encourages others to take philanthropic leadership roles. Your undeniable generosity and continuous demonstration o0f these qualities made you both clear choices as recipients."
Dr. Joshi is the only person from Nepal to receive some of the honors in the U.S. such as the naming a major program of a university (Fairmont State University, West Virginia); 2021) after a persoon's name; selected as the outstanding philanthropist of the year by a university (FIrmont State University, 2021); recognized by an American professional association for a long outstanding service to an academic profession (American Association of Geographers. 2015); and honored by 3 governors of a U.S. State ((West Virginia: Bob Wise, 2002, Joe Manchin, 2007 and Earl Tomlinson, 2012).
Dr. Joshi received other numerous recognitions and honors for his academic excellence, social service and philanthropic works that include among others:
The gold medal from the king of Nepal for academic excellence (1963); recognition and honor by the President of Nepal for social works (2020); gold pin, gold certificate and a felicitation letter from the US President for volunteer service (2018); gold pins and certificates from three governors of West Virginia for distinguished long service (2002, 2007 and 2012); recognition and honor by American Association of Geographers for distinguished long service to the discipline of Geography (2015); several recognition plaques from ANA for outstanding service to Nepali communities in America and Nepal (1993, 2002, 2015, etc.); naming the Fairmont State University international students center after his and his wife's name for contribution to the international education; adding his name to National TulasiRam Secondary School of Dhangadhi, Nepal for substantial donation to the school (2018); the prestigious Cyrus R. Vance award with a purse of $5,000 from the West Virginia Department of Education and Arts for international education in West Virginia (2003) and subsequently the University placed a bronze plaque at the entrance wall of the international students office (2015) recognizing Dr. Joshi's contribution to international education at the University, the only plaque of this kind honoring a faculty member in the University's history of over 150 years (Established 1865); and recognition of outstanding faculty achievement award by Fairmont State University (1996).
Dr. Joshi received his Master's degrees from Tribhuvan University of Nepal and the University of Hawaii, and a Ph. D. from the University of Pittsburgh. Academically starting from undergraduate studies, he distinguished himself from Tri-Chandra College, Nepal as he scored the highest marks in both I.A and B.A. examinations of Patna University, India and Tribhuvan University, Nepal respectively.
He has worked for over 42 years as a professor of geography at Fairmont State University. He is a life member, and former treasure, chair of the education committee, information director and advisor of the Association of Nepalis in the Americas (ANA). He has been championing the education cause to empower needy/impoverished Nepali students thereby meeting the educational mission of ANA. He established scholarship programs for needy students of Bajhang, Nepal for their higher education in Nepal, and for Nepali students for their undergraduate studies at Fairmont State University. One of the scholarship programs at Fairmont State has been named ANA-Tulasi & Marilyn Joshi Scholarship. Over 50 students have benefited from these scholarship programs. These students with doctorate, master's and bachelor's degrees not only have helped themselves, their relatives and friends, but have also made regional, national and global impacts working for such companies as NASA and Bristol-Myers Squibb in research and developments.
Initially, he started to empower needy/impoverished students of Nepal helping them with their undergraduate and graduate studies in Nepal and USA, and promote international awareness in West Virginia with cross cultural understanding involving international students, which could be a step toward the world peace by curing the ills of humanity. In this regard, Dr. Marta Martin, the President of Fairmont StTe University echoed the importance of international education during the dedication of the University's international students center to Dr Joshi:
"It is important for cultures come together to better understand one another. I tell our students here at Fairmont State University that I have great expectation of them. I hope, in them, I will find one day, the individual who can find the cure that ails the humanity or perhaps the diplomat who brings the peace to the world. This is the first step in understanding cultures who can bridge our differences and celebrate who we are part of the humanity."
His new focus has added a new dimension which is to help orphans, impoverished and marginalized children in Nepal starting from kindergarten and first grade. To do this, he donated a substantial amount of money to two schools in Dhangadhi (over 7 million rupees) and 3 schools in Bajhang (over 3.6 million rupees). In 2019-2020, 105 such children have been helped in Dhangadhi.
Joshi met his wife, Marilyn, in Morgantown, West Virginia and they have been married for over 45 years. Mrs. Joshi is originally from Core, located about 20 miles north of Fairmont, West Virginia. She received her master's and bachelor's degrees from West Virginia University. She also has a certificate to teach gifted students. She is a retired teacher after teaching more than 30 years in the West Virginia school system. "She has been a source of inspiration for my passion and undertaking the educational endeavors," Joshi said.