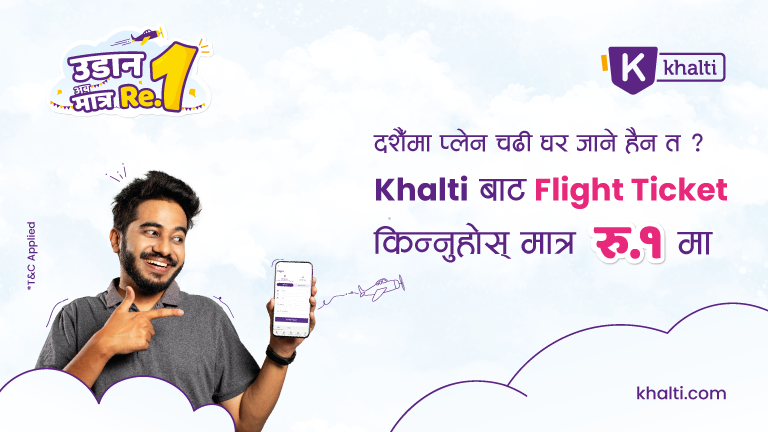 Khalti, Nepal's highest cashback providing digital wallet in flight tickets, has introduced "Udaan Aba Matra Re. 1" campaign where one can purchase Flight Tickets just at Re. 1 and get instant cashback of up to Rs. 800.
During this offer, one lucky winner will win a flight ticket at Re. 1 every day. This offer is applicable for Khalti KYC verified users only. Those who don't have a Khalti account can also avail of this service by downloading Khalti app and verifying their KYC which takes less than 2 minutes.
This offer runs from 7th September to 4th October of 2021.
Regarding the campaign, Mr. Saurav Ojha, an Assistant Manager-Enterprise & Merchant Promotions said,
"We launched this offer with the aim of helping customers to avoid the hassle of staying in a long queue to purchase tickets during Dashain, saving their money through our attractive cashback offer, and encouraging them to make digital payments from the comfort of their home"
For further information, one can visit Khalti's blog.
Khalti Digital Wallet, established in 2017, is a popular Digital Wallet and Payment Gateway in Nepal. Currently, it has more than 2 million + active users throughout the country. From Khalti, users can send money to 60+ banks and financial institutions, recharge their phone, TV, pay their internet bill, insurance premiums, Government Revenues, Waste Management Bills, buy domestic flight tickets, and many more.
For further information, anyone can call Purna Kumar Rana, at +977-9801301161, or mail at [email protected].