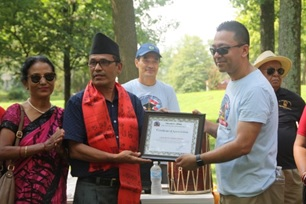 Dear Community Members, Jwajalapa – Namaskar,
Nepa Pasa Pucha Amerikaye (NPPA) held its annual summer picnic (ख्य: भ्वय्) on Saturday,August 28, 2021,at the Wheaton Regional Park, Silver Spring,Maryland.On this occasion,NPPA also observed this year's Sa Paru (सा पारु) which literally means "cow festival". It is a unique festival celebrated mostly by the Newahs (but not limited to) in Nepal. This festival is observed on the first lunar day (पारु) of Gunlaga (गुंलागा) Bhadra (August/September) month.This festival started in the medieval era and was observed as a tantric (तान्त्रीक) ritual to pay homage to Yamaraj (यमराज), the lord of death in Hinduism. However, it is now observed in memory of departed family member(s) and to celebrate their lives.
NPPA President Mr. Raju Joshee welcomed all the attendees of NPPA summer picnic and participants of Sa Paru (सा पारु). NPPA was honored by the presence of Lok Kabi Mr.Rajbhai Jakami and his wife Mrs.Bhagawati Jakami.On behalf of NPPA, Mr. Joshee presented a Certificate of Appreciation to Lok Kabi Mr.Jakami for his contribution to Newah literature.On this occasion Mr. Jakami recited a couple of his very interesting poems and Newah rhymes.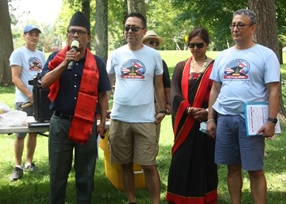 Ten families participated in this year's सा पारु festival. Sankalpa (संकल्प),a purification process was performed by Mrs.Ganga Maharjan, assisted by Ms.Sarita Dongol,to formally start the सा पारु procession.The Founder President Mr. Ram Malakar offered garlands to portraits of the deceased and the सा पारु participants. Vice President Mr. Manohar Shrestha chanted Durgati Parishodhani Dhaarani (दुर्गति परिशोधनी धारणी) pronouncing the names of all ten deceased souls. The procession went around the Wheaton Regional Park and was led by a cultural Ghintan Kisi Twak (घिन्ताङ्ग किसि त्वाक्) group dance. A team of Newah Dhime (धिमे:) players played the traditional drums. Following is the list of participants:
Late Mrs. Subarna Laxmi Shrestha (Mother of NPPA Vice president Mr. Manohar Shrestha)
Participants: Aishwarya Shrestha, Adita Shrestha, Yujan Shrestha, and Jayce Bhadel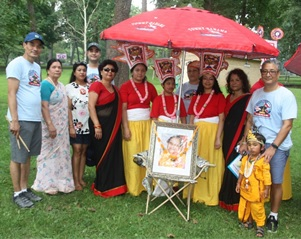 Late Mr. Ramji Prajapati (Husband of NPPA Patron Mrs. Durga Devi Prajapati
Participants: Nabin Shrestha, Niraj Shrestha, and Ishan Prajapati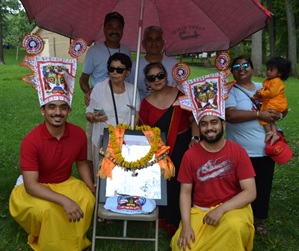 Late Mr. Shree Ram Shrestha (Father of NPPA Life Member Mr. Krishna Shrestha)
Participant: Siddhant Shrestha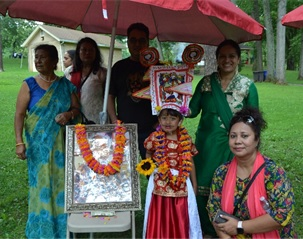 Late Mr. Radha Krishna Joshi (Father of NPPA Life Member Mr. Subash Joshi)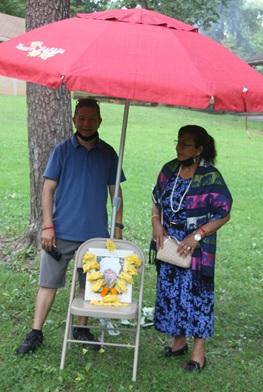 Late Mr. Ram Bahadur Rajbhandari (Grandfather of NPPA Life Member Mr. Dipesh Rajbhandari)
Participants: Ridisha Rajbhandari and Ridesh Rajbhandari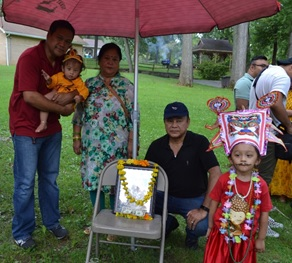 Late Mr. Ram Prasad Shrestha (Father of Mr. Satish Shrestha)
Late Mr. Beda Pradhan (Father of Mr. Arvind Pradhan)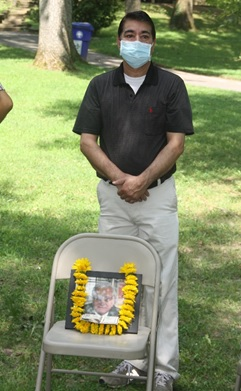 Late Mrs. Shanta Suwal (Mother of Mr. Rahendra Suwal)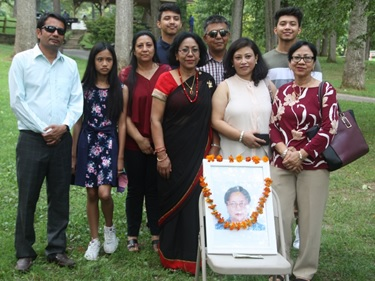 Late Mrs. Narayan Devi Shrestha (Mother of Mr. Prabin Das Shrestha)
Late Mrs. Soni Dangol (Wife of Mr. Bijaya Dangol)
NPPA started observing सा पारु in the Washington DC Metro area in 2016, and was the first-ever such observation outside of Nepal. The paper head-gear were acquired in Kathmandu, Nepal by Mr. Ambika Lal & Mrs. Anita Shrestha and were brought to the USA by Mr. Durga Lal and Mrs. Amita Shrestha. Jama (जामा) and Jani (जनी: – similar to cummerbund) were provided by Mr. Nani Babu & Mrs. Magan Shrestha, additional जनी: were provided by Mr. Krishna & Mrs. Saroj Prajapati. The Jama (जामा) were sewn by Mrs. Shanti Shrestha. The umbrellas were provided and attractively decorated by Mr. Ram & Mrs. Bishnu Malakar, along with the flower garlands.
  After the conclusion of सा पारु procession, lunch of typical Newah dishes, along with barbeque was served. Over 150 people attended this year's summer picnic and सा पारु event. NPPA would like to thank the following businesses for their generous contributions:
Chutney Indian Restaurant – Sponsored and marinated BBQ chicken
Classic Diamonds (Allan Maharjan) – Sponsored the picnic site rental
NPPA would like to thank all the volunteers and  participants for making this year's सा पारु festival and picnic successful. We would also like to thank Mr. Budhendra Joshee, Mr. Prabin Piya, Mr. Raju Joshee, Mr. Manoj Shrestha, and Mr. Salyan Shrestha for playing the traditional Ghitang Kisi Twak musical instruments. Similarly our big thanks goes to all the Ghintan Kisi Twak (घिन्ताङ्ग किसि त्वाक्) dance crew led by Mrs. Magan Shrestha, Mrs. Shanti Shrestha. NPPA started to perform Ghintang Kisi Twak music and dance in 2017.
NPPA really appreciates Mrs. Rita Singh for taking charge to serve the food, along with Mrs. Minu Shrestha, Mrs. Shilu Joshee, Mrs. Banita Tamot, Mrs. Roshani Gorkhalee, Ms. Reshmi Joshi Shrestha, Ms. Manju Shrestha, Mrs. Rekha Shrestha, Mrs. Niti Mathema, Mrs. Bemy Pradhan, and Ms. Urmila Dangol.
NPPA is also grateful to the setup and cleanup volunteers Mr. Allan Maharjan, Mr. Sharad Shrestha, Mr. Anugh Shrestha, Mr. Prashanta Singh, Mr. Krishna Prajapati, Mr. Pancha Shrestha, Mr. Nani Babu Shrestha, Mr. Durga Shrestha, and Mr. Yuman Shrestha.
We would like to express our sincere thanks to our media friend eNepalese.com for covering and live broadcasting this event.
NPPA will strive to maintain this tradition and seek your active support and suggestions. Let us continue to preserve our culture and identity in the USA!
Please mark your calendar for NPPA's upcoming event:
Event:                Nepal Sambat 1141 & NPPA's 30th Anniversary Celebration
Date & Time:    Saturday, November 13, 2021 (2:00 PM till 10:00 PM)
Venue:               Will be announced soon
We look forward to meeting you there!
Subhay,
Executive Committee
Nepa Pasa Pucha Amerikaye (NPPA)
नेपा: पासा पुच: अमेरिकाय्