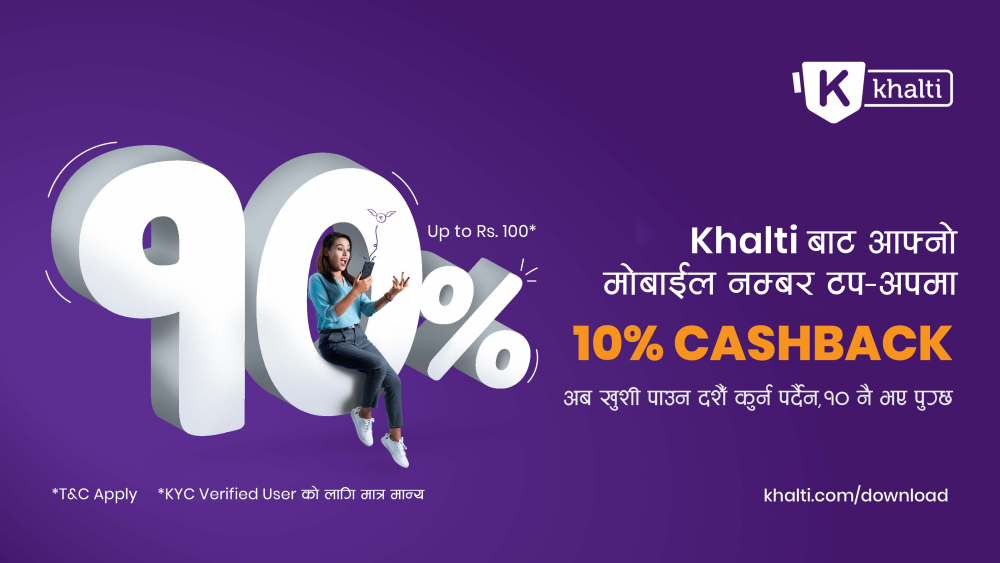 Khati has introduced Nepal's biggest 10% (Up to Rs.100) cashback offer on mobile Top Up.Recognized by Nepal Rastra Bank, Khalti Digital Wallet is an online payment service provider company.
The offer has been launched to make it easier for customers to recharge phones from the comfort of their homes and save their precious time and money.
Regarding the campaign, Khalti Digital Wallet's Brand and Marketing Manager, Mr. Sirish Shrestha shared,
"In the spirit of DIY (Do it Yourself), we have launched this mega cashback offer for our users on mobile Top Up.Now, parents do not need to wait for their moody teens for the topup or even buy scratch cards. Simply, Topup your phone number and get 10% cashback. We believe our users will love this offer"
This offer is applicable for Ncell, Namaste, and Smart users.
Any Khalti KYC Verified consumers can avail of this discount by recharging their registered mobile number with Khalti. The maximum cashback in a month as per the Nepali calendar is Rs. 100.When the Cashback amount is exceeded,the user will receive the usual Cashback, i.e. 1%, just like while recharging other numbers.
The offer is for a limited period of time and applicable only for Khalti KYC verified User ID. While recharging, one may not see the whole cashback on the cashback section, however, once the topup is complete, they'll be able to see it in the Transaction list.
To receive 10% cashback from Khalti, one needs to:
1. Go to Khalti app and tap on the Top Up icon
2. Enter their own Mobile Number Registered to Khalti and total desired Amount
3. And, click on the "Done" button to get an instant 10% cashback.
One can visit Khalti's blog to know its Terms & Conditions.
Khalti Digital Wallet, established in 2017,is a popular Digital Wallet and Payment Gateway in Nepal.Currently,it has more than 1.7 million active users throughout the country. From Khalti, users can recharge their phone,TV,pay their internet bill,insurance premiums,Government Revenues,Waste Management Bills, buy domestic flight tickets, and many more.
For further information, anyone can call Purna Kumar Rana,at +977-9801301161, or mail at [email protected].