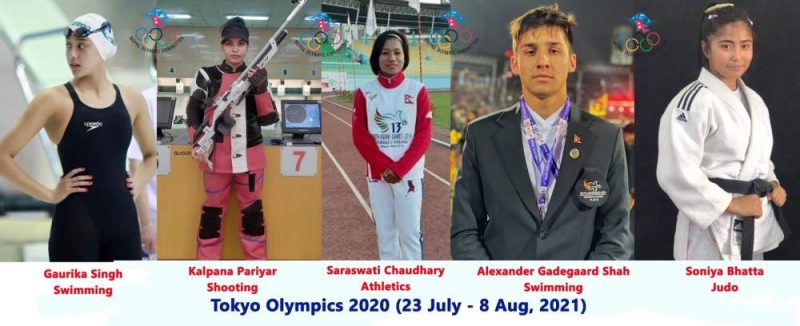 After much suspense, drama and speculation,the most eagerly awaited XXXII Summer Olympic Games gets underway at the Olympic Stadium,Tokyo, Japan on July 23rd,2021.
Emperor Naruhito is expected to formally declare open the Games.
Let us remind ourselves that this is the second time Japan is hosting the GamesThey first hosted the Games in 1964.
The 2020 Olympic Games originally scheduled from July 24th to August 9th had to be postponed due to COVID-19.
Amidst growing uncertainties, the International Olympic Committee and host country Japan decided to finally go ahead with the Games from July 23rd to August 8th.
It is interesting to note that nearly 62 % of Japanese voters polled in June,2021 wanted the Games to be cancelled or postponed.Only 34% supported the idea of the Games going ahead.
The Games in Tokyo will be very different.Athletes will compete and perform in front of empty stadiums.Spectators will not be allowed into any venues because of Tokyo's new state ofemergency.
The economic burden on the country has been staggering.As per reports,Japan has already spent $15.4 billion on the postponed games to date.
Sports enthusiasts in millions across the globe will be glued to their TV sets to watch and enjoy every minute of the action.
A little bit of history.The Games can be traced back to Greece,which is referred to as the cradle of the Olympic Games. According to historians, the Ancient Games(Olympics) were held duringa religious festival in honour of Zeus, considered king of all gods by the Greeks,every four years in Olympia, Greece from 776 BC and through 393 AD.
The world had to wait 1503 years for the Olympics to return, thanks largely to the efforts of Frenchman Baron Pierre de Coubertin.The first modern Olympics were held in Athens,Greece in 1896.Thirteen countries competed in nine sports-cycling, fencing,gymnastics,lawn tennis,shooting, swimming,track and field, weightlifting, and wrestling.
Since then the Games have been staged every fours except during World War I and World War II in five continents and hosted by nineteen countries.More importantly,the Games have evolved over the years in stature,scope and size.The mega sporting spectacle has been commercialized and become a multibillion- dollarinvestment over the decades.
The IOC is expected to generate a whopping 75% revenue from TV rights.With no fans both home and abroad allowed into venues,Tokyo Games will be a TV-only event.
The 2020 Summer Olympics will feature 339 events, representing 33 different sports and held in 42 venues across Japan. Some 11,500 athletes from 205 countries are expected to vie formedals.
The Olympics is not just about bringing the very best athletes from across the world under one roof and pitting them against one another at the highest level of the competition.
It is a vehicle to promote peace and unity within the international community through the medium of sports.
However,the Olympic Games have had its share of controversies, scandals,conflicts,cheating and tragedies in the form of racial discrimination,boycotts,use of illegal performance enhancement drugs,terrorist attacks,politics and many more.Nepal and Olympics
Nepal's journey to the Summer Olympic Games began in 1964 held in Tokyo,Japan.Barring the 1968 Olympics in Mexico city, Mexico,Nepal has participated in every Games in select disciplines like,archery,boxing,athletics,weightlifting,judo,taekwondo, swimming and shooting.
Given the pathetic state of sports in the country,it is no surprise that Nepal's participation is limited to a few events and has yet to win a medal at the Olympics.
The name Bidhan Lama comes to mind whenever we talk about the Olympics.Mr. Lama, a gifted and tremendous martial artist, stood third in taekwondo in the finweight(-50KG).Taekwondo then was only a demonstration sport at the 1988 Summer Olympic Games held in Seoul, South Korea.
Nevertheless,his performance remains the best ever by a Nepali at the Olympic Games to this day.
The regular feature of Nepali contingent for major sporting events always has been unnecessary inclusion of officials in big numbers
.
The contingent for the 2020 Olympic Games in Japan is no different Of the 26 members,fiveare athletes,4 coaches ,1 paralympic athlete and 16 officials. It irks and infuriates me,for sure.Nepal will be participating in swimming,judo, shooting and track and field.Meet the five athletes representing Nepal
1.Gaurika Singh(Swimming)
A very talented swimmer. She has great potential and is a champion in the making.She competes in the 100 Meter Freestyle.This is her second Olympic Games.
At 13, she made her Olympic debut at the 2016 Summer Games in Rio De Janeiro,Brazil and was the youngest competitor in any sport.She competed in the women's 100 Meter Backstroke and was victorious in the first heat.
The England trained swimmer holds multiple national records.Her potential was in full displaduring the 2019 South Asian Games held in Kathmandu ,Nepal.
In an exhibition of smooth and powerful swimming,she hauled a record 9 medals( 4 gold,2 silver and 3 bronze). Prior to that in the 2016 South Asian Games, she won 1 silver and 3 Bronze,.
The 18 year old Singh will be Nepal's flag bearer for the opening ceremony.She has committed to join Tufts University in Boston where she will pursue her academic and swimming goals.She received a Universality invitation from FINA(wild card qualifier card) for the Tokyo Games.
2.Alexander Gadegaard Shah(Swimming)
Born to Nepali father and Danish Mother,18 year old Shah is a powerful and outstanding swimmer.He is devoted and committed to achieving his goals in swimming.His prospects as aprofessional swimmer is excellent.He is making his first appearance in the Olympics and competes in the men's 100 M Freestyle.
He holds national records in both the 50 M and 100 M Freestyles. In 2019 he represented Nepal at the World swimming championship.He finished 101st and 102nd in 50M and 100M Freestyles respectively.
As a freshman he will be attending Fordham University in the fall. Like Singh he will continue to swim and study.He also received a Universality invitation from FINA (wild card qualifier spot forthe Tokyo Olympics).
3.Kalpana Pariyar (Shooting)
Experienced twenty -six old Pariyar is making her maiden appearance in the Summer Olympic Games. She is a dedicated and excellent shooter, carrying big dreams.She continues to be inhot pursuit of her goals.
She is committed and willing to do whatever it takes to achieve success.She is competing in the10 Meter Air Rifle.She had her first major competitive taste at the 2018 Asian Games held in Indonesia and finished 45th.In 2019 she participated in Asian Shooting Championship in Doha,Qatar,World Cup in New Delhi, India and South Asian Games in Kathmandu, Nepal and finished 47th, 101st and 2nd respectively.She received a wild card qualifier spot for the Games in Tokyo.
4.Soniya Bhatta( Judo)
Nineteen year old Bhatta is a promising and ambitious judoka and raring to go.Given her skills,ability,reflexes,enthusiasm,hunger and instinct, she has a great future in judo and is destined for success.
She competes in the 46 Kg (Extra-light weight).She has already garnered invaluable international experiences at such a young age. In 2018 she participated in the Cadets Asian Cup in Hong Kong,Asian Cadet Championship in Beirut,Lebanon,Macau Cadets Asian Cup in Macau and Summer Youth Olympics in Buenos Aires,Argentina.Likewise,in 2019 she participated in the World Championship Juniors in Marrakesh,Morocco and in 2021 Asia-Oceania Senior Championship Bishkek, Kyrgyzstan. She won a bronze in the 2019 South Asian Games held in Kathmandu,Nepal.She also got a wildcard qualifier spot for the Games.
5. Saraswati Chaudhary ( Track & Field)
Twenty-four year old Chaudhary Is Nepal's lone representative in track and field.She is adetermined, fantastic and talented runner.
She is positive, full of energy, competitive and wants to prove herself.She combines commitment and long hours of hard work day and night in order to strive for excellence.
She regularly competes in 100M,200M,800M and 4X 100 M. She holds the national record in the 100 M. At the 2019 World Athletics Championship in Doha,Qatar she shattered the existing national record by sprinting 100 M in 12.72 seconds.She finished 8th in the heats overall.
She is ranked 46th and is competing in the 100 M at the Tokyo Games.She got the chance to compete at the Olympics through a wild card.
For all five upcoming athletes the Olympic Games experience will be invaluable and a big learning opportunity
-By Sushil Thapa, Fairfax,VA