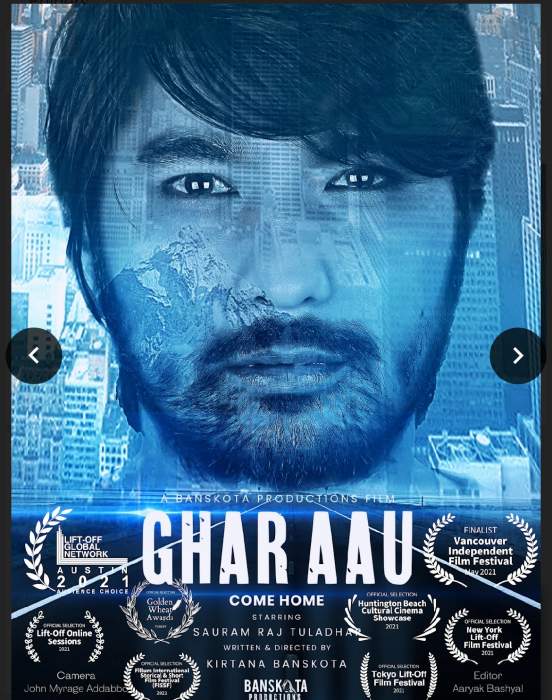 Production Details

Ghar Aau ( Come Home)
Production House
Banskota Productions ( Austin, TX, USA and Kathmandu, Nepal)2. Directed By
Kirtana Banskota
Screenplay By
Kirtana Banskota
Produced By
Kirtana Banskota 
Cast- Sid Sauram Raj Tuladhar Aama/Mom
Uma Devi Bishwakarma
4. Director of Photography
John Myrage Addabbo
5. Editor
Aaryak Bashyal
Sound
John Myrage Addaboo
6. Production Assistant
Aayush Gadal
7. Social Media Coordinator
Sarah Anne Greufe
8. Special Thanks To
Nathan Lafferty
Kishore Bishwakarma
Bikash Bishwakarma
Ana Martinez —-
Film Logline
A single mother pleads with her son who attends university in the United States to COME HOME to Nepal during the COVID 19 lockdown of 2020.
Film Festival Wins
Austin Lift-off Film Festival- Audience Choice Award 2021
Vancouver Independent Film Festival
Film Festival Selections
Austin Lift-off Film Festival
Vancouver Independent Film Festival
New York Lift-Off Film Festival
Tokyo Lift-Off Film Festival
Golden Wheat Awards, Turkey
Liftoff Online Sessions
Fillum International Storical & Short Film Festival
Huntington Beach Cultural cinema Showcase
Director's Statement about the film
Ghar Aau ( Come Home) is dedicated to all those who felt loss during the COVID-19 pandemic.
A HUGE THANK YOU to our array of frontline workers across the world who are courageously and relentlessly working every day to help us all in the fight against the deadly COVID-19 virus.
We are forever grateful!
Actor's dedication 
This film is dedicated to all students forced to live away from their parents during these scary times.
About Banskota Productions
is an award-winning International Entertainment and Events company that prides itself on bridging the gap between storytelling, countries, and cultures. Since 2016, Banskota Productions has been making its mark on a global scale. They specialize in storytelling in both the entertainment and events world and If you have a story that needs to be brought to life, this small yet highly enthusiastic, and talented team can make it happen.

About Kirtana Banskota
Kirtana Banskota is a first-generation award-winning Nepali American filmmaker based in Austin, Texas. A producer, writer, director, and actor, Banskota wears multiple hats when it comes to the entertainment world. She is the founder of Banskota Productions, an International production house based in Austin as well as Kathmandu Nepal that celebrates storytelling from all across the globe. Banskota wrote and co-produced the very first audience interactive Bollywood Theatrical Production called "The Big Fat Indian Wedding. In Austin, TX. A newly elected board member (2021) of the Women in Film and Television- Austin chapter, Banskota looks forward to bringing a fresh and diverse perspective to the organization. With strong roots in South Asia and the US, her goal is to build bridges between cultures through cinema and entertainment.
Kirtana is also the co-founder of the Nepal America Film Society and the Nepal America International Film Festival both based in Maryland. In the year 2020 during the global pandemic, she co-produced the Coalition of South Asian Film Festivals with six other international South Asian festivals making it the largest virtual South Asian festival. Banskota recently co-founded the Austin South Asian Film Festival, which will see the red carpet for the first time in March 2022.
Her documentary short (Nepal Snehi Kaakha) was an award winner at the 2018 Filmaka competition. Her recent film produced during COVID, Ghar Aau ( Come Home) has been selected to screen in numerous film festivals across the globe and has recently won the Audience Choice Awards at the Austin Liftoff Film Festival. She is also the co-author and co-producer of For Love- a film that competed and won several awards at the 48-hour film festival in San Antonio. She is also the Executive Producer of the archeological show (A World Beneath)-pilot episode is currently being pitched to various network channels.
About Sauram Raj Tuladhar
Sauram Raj Tuladhar (Lead Actor) is an award-winning and well-renowned actor from Nepal. His most recent work includes Ghar Aau-Come Home which is currently on the festival circuit and has already been selected in multiple film festivals globally. Tuladhar is also known for the film Goodbye Kathmandu which was officially selected at the prestigious Busan International Film Festival in 2017. In 2015 his debut feature Zindagi Rocks was released theatrically in Nepal and globally. He won the best debut actor award for his role. He was also nominated for the same category in three different awards ceremonies. His debut on-screen acting was in a television series "Hamro Team " which was on-air on National Television in Nepal in 2011. He also acted in another feature Sadanga which was released soon after Zindagi Rocks and was a box office hit. Tuladhar has been acting since his formidable years in middle school on all platforms including theater, music videos, short films, ad films, and feature-length.