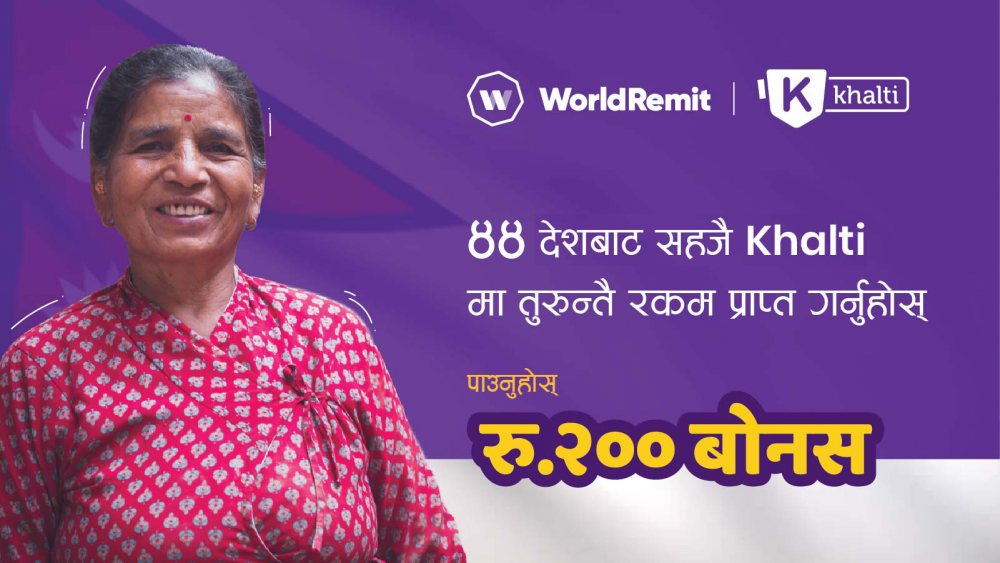 Nepal's one of the prominent Digital Payment Service Provider (PSP), Khalti,has announced a partnership with a leading digital cross-border payment company,WorldRemit.Using this service,anyone can receive money from 44 countries to Nepal directly to the Khalti App and get a Rs. 200 bonus too.
This means anyone can receive unlimited amounts of money 24/7 from anywhere to Khalti from their friends and family.Once sent, the received amount and bonus will automatically appear there in their recent transaction history inside the Transactions section.
One must verify the Khalti KYC to receive money which takes just 2 minutes.
Speaking about the agreement,Khalti Digital Wallet's Head of Remittance Department,Mr.Saurav Raj Pandey shared:
"We are committed to meeting our customers' demands with a best-in-class value proposition in this digital platform.Joining hands with a leading money transfer company,World Remit & providing fast and secure payment options for customers to seamlessly send money across borders by going online or using a mobile device will help businesses and individuals prosper through the safe, convenient, and affordable transfer of funds by providing fast and reliable service at a great value".
"This partnership ensures that customers can continue to conveniently make money transfers to their family and friends from the comfort of their homes. We are pleased to partner with Khalti, a company that shares our values of promoting financial inclusion through widening access to financial services for underrepresented communities. We are confident that making it easier to transfer money to Nepal will give our customers more flexibility and options when receiving support from loved ones abroad." said Ruzan Ahamed, Country Director for South Asia at WorldRemit.
On the sender's part, to send, they need to go inside the WorldRemit app,Tap on Send Money, Choose Nepal as destination, enter the total amount to send and Select Khalti inside Mobile Money Transfer along with the recipient's details and send. One can go through Khalti's blog for more information.
For further information regarding the service, users can reach Khalti at 1660-01-5-8888 or email at support@khalti.com
About Khalti
Khalti Digital Wallet, established in 2017,is a popular Digital Wallet and Payment Gateway in Nepal. Currently, it has more than 1.7 million active users throughout the country. From Khalti,users can recharge their phone,TV,pay their internet bill,insurance premiums, Government Revenues,Waste Management Bills,buy domestic flight tickets,and many more.Khalti digital has aided to save its users time and money by providing faster services and exciting cashback. It can be downloaded from Khalti.com/app.
For further information,please call, Saurav Raj Pandey, at +977-9801856474, or mail at [email protected]