Nepal Sambat 1141 and NPPA's 29th Anniversary Celebration -प्रेस बिज्ञप्ती: नेपाल सम्वत् ११४१ र एन.पि.पि.ए.को २९सौं बार्षिकोत्सव समारोह
Pioneering the Preservation of Newah Culture
इनेप्लिज
२०७७ मंसिर १३ गते १५:२९ मा प्रकाशित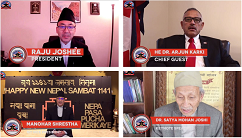 On Saturday, November 21, 2020, Nepal Sambat 1141 and NPPA's 29th Anniversary were celebrated virtually due to the ongoing COVID-19 pandemic.
The online celebration commenced with "GANESH POOJA" by the members of Nepa Guthi. The Pancha Kanyas Miss Aanya Chitrakar, Miss Ishanvi Suwal, Miss Melvina Shrestha, Miss Pralisha Shrestha, and Miss Roshita Shrestha greeted the viewers with Nhu Da Ya Bhintuna wishes. It was then followed by a procession with Lakhay, performed by Mr. Nani Babu Shrestha and Dhimay, played by Mrs. Magan Shrestha, Mr. Krishna Prajapati, and Mr. Pancha Shrestha.
The program was officially inaugurated by lighting of the traditional "TWADEWA" (oil lamp stand) by the former NPPA Presidents Mr. Ram Malakar, Mr. Bhagat Lal Shrestha, Mr. Dibya Hada, Mrs. Meera Shrestha, Mr. Laxman Pradhan, Mrs. Saroj Prajapati, and current NPPA President Mr. Raju Joshee.
Miss Sahara Joshee performed the U.S. National anthem. Mr. Prabin Tamrakar and Ms. Kala Neupane, accompanied by Miss Hridayasha Tamrakar on keyboard, performed the Nepalese National anthem.
President of NPPA Mr. Raju Joshee presided over the opening ceremony. He welcomed the viewers and emphasized that we are all in an uncertain period and in uncharted territory. He summarized NPPA's important activities and its participation in community development programs during the year 2019/2020. Since its inception, NPPA has undertaken many projects in promoting and preserving the Newah culture and values in the US and Nepal. 
Chief Guest of the event H.E. Dr. Arjun Karki, Nepalese Ambassador to the United States of America praised NPPA for its continued efforts in promoting and preserving Nepali and Newah culture and values.
Dr. Satya Mohan Joshi, who is a littérateur, author, and centenarian was the keynote speaker. He noted that the indigenous Newah people of the Kathmandu valley have not only spread throughout Nepal, but also in different parts of the world. He admired the efforts of the expatriate Newah communities to preserve Newah culture and tradition. Especially, he praised the Nepa Pasa Pucha Amerikaye for their dedication to preserve and promote Newah culture in the United States and their continued connection and support with their fatherland. He also eloquently explained how Newahs are maintaining a delicate balance between janmabhumi – the land of birth, karmabhumi – the land of work, and pitribhumi – the father land or the roots. Dr. Joshi appreciated the support provided by NPPA to Lok Sahitya Parishad. He pointed out that according to the Nepalese census of B.S. 2068, 35% of Newahs have stopped communicating in Newah language. He requested the viewers to continue to use Newah language in their daily lives to help preserve it. He also recommended the translation of Newah literature into English so that it is available to non-Newah readers.
NPPA's annual souvenir magazine "DABOO" was also released during the ceremony.
Thereafter, the Vice President of NPPA Mr. Manohar Shrestha concluded the inauguration ceremony. He expressed sincere gratitude to the Chief Guest, Keynote Speaker, and the viewers/participants. He assured that NPPA's regular Bhintuna and anniversary program would resume once it is safe to congregate in large groups.
After the inauguration ceremony, the viewers were entertained with a lively cultural program.The cultural program started with a Buddha bhajan by Mr. Prabin Tamrakar. It was followed by a vibrant Jathiswaram dance, performed by young and talented artist Miss Shilu Maharjan. Pasa Band's Mr. Ashish Shrestha and Mr. Anugh Shrestha performed a musical medley to entertain the viewers. KC Dance Center's Miss Suhana Shahi, Miss Shristi KC, Miss Arya Baniya, Miss Sleshma Pant, Miss Luniva Desar, and Miss Akshyarika Khanal presented a cheerful dance. Mr. Prajit Shrestha presented an instrumental piece on mandolin. It was followed by a Newah song by popular singer Sangita Thapa Shakya. A duet dance was presented by the young talents Miss Lochani Tara Shakya and Miss Shreya Menon on Newah song. Ms. Sarana Shrestha sang her new and melodious Nepali song and KC Dance Center presented another dance featuring Miss Diya Poudel and Miss Bibhisha Adhikari.
Mr. Madan Krishna Shrestha and Mr. Hari Bansa Acharya delivered congratulatory notes to NPPA on its 29th anniversary and Nhu Da Ya Bhintuna 1141. It was followed by a beautiful dance on a Newah song by the young talent Miss Adita Shrestha. Finally, the Sultan of Strings Mr. Anil Shahi entertained the viewers with his melodious song and amazing guitar solo.
 This year's NPPA Outstanding Volunteer Award was posthumously presented to Mr. Roshan Mali for his dedication, commitment, and services to NPPA and Nepali community. Similarly, his surviving wife Mrs. Uma Mali also was presented with this year's NPPA Outstanding Volunteer Award.
 NPPA General Secretary Ms. Kritishma Shrestha and Secretary Mr. Suman Tuladhar skillfully and flawlessly moderated the entire program. Due to her professional commitments, Ms. Kritishma Shrestha has stepped down from the General Secretary position. However, she has committed to continue her support for NPPA. NPPA appreciates her contribution that has undoubtedly strengthened the organization. Mr. Suman Tuladhar will assume the responsibility of the General Secretary.
The live stream of this event was managed by NPPA Associate Treasurer Mr. Sharad Shrestha through Nauloo Digital. This Event was live streamed via NPPA website, eNepalese.com, and YouTube, and was viewed by 9,000 plus viewers.
The successful celebration of NPPA's 29th anniversary and Bhintuna (Nepal Sambat 1141) program was made possible by the selfless commitment, dedication, and hard work of all the volunteers. Volunteers are the life-line of all NPPA activities and we sincerely thank all the volunteers for their unconditional support and hard work.