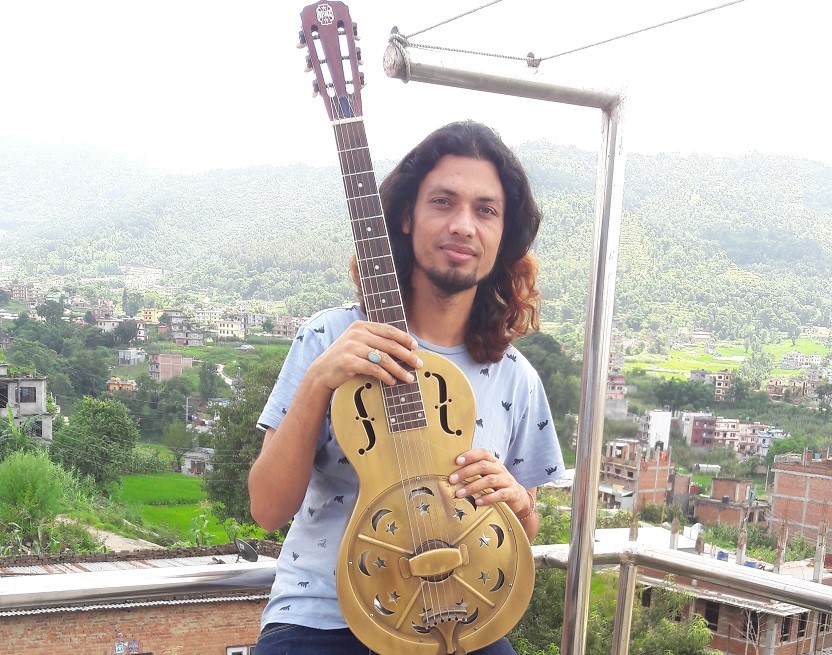 Prakash Slim Pokharel, an international artist/performer and educator of the blues was born on June,17th, 1980, in a field. It was during the rainy season, of a small village called Lamatar, in the Lalitpur district, of Nepal. The village saw its first electric bulb in 1983 and its first motor car only in 1995. He was raised by a loving, loyal family that had very limited means. His father passed away at the age of 29, leaving his mother with three children to raise,One elder brother, a sister & Prakash. What food they could manage to obtain was earned by their mother, who worked in their neighbors' fields. Every year, he waited for their main festival to be celebrated. Annually, that would be when his uncle would gift him a pair of new clothes. He went to a public school where instead of desks and benches, they had mats made of straw. When asked what his ambition was when young, Prakash Slim replied, 'Ambition was a privilege for rich kids back then. The only ambition I had was sustaining life.'
He was interested in music since he was a child. He'd play music by drumming against a water gallon where he'd sing songs all day. Music drew him to its world. When it called out to him he couldn't resist. His most prized possession back then, was a bicycle that his sister gifted him after she landed a job. Prakash wanted to learn & play the guitar but he didn't have the money to buy one. He confesses that he bought his first guitar by selling his bicycle, telling his family that a friend had taken it for a few days.
For two years, Prakash gave up everything else, to search for a mentor who could teach him everything he needed to know about music theory. He finally found a teacher, a legendary musician named C.B.Chhetri, though he lived 10 kms away from Prakash's own home. His passion for music was so enormous that he never missed a lesson.Whether it stormed or rained, he always arrived, ahead of time, and ready to learn.
For years, after learning a working, journeyman's knowledge of the guitar, he accepted his mentor (C.B.Chhetri) 's offer to join his band and gigged in a circuit of restaurants playing rock music and instrumental. At the same time he started teaching music in the schools and institutions.
In 2008 he participated in a workshop entitled Teaching Music Effectively" conducted at Kathmandu Jazz Conservatory by the US Cultural Embassy envoy; Dr. Gene Aitken. It had been fine playing in Rock Bands all those years, however Prak's thirst for musical knowledge, and more deeper musical experiences, couldn't be quenched. The aching hole in his soul stated to heal when he heard his first BB King recording. Overwhelmed by what he heard, he began researching more & more about Blues music & it's history. He also took much of his existing repertoire and started experimenting by adding Blues licks & Blues grooves to them. There he, gradually learned more expanded theory and a deeper understanding of how chords and progressions are formed both physically and numerically. From 2003 – 2015 he kept busy playing lead and/or rhythm guitar,bass as well as a vocalist for various bands throughout Nepal
At 2015, he received an invitation to attend a musical retreat at Walden School of Music, San Francisco, California, USA. A major earthquake, though hit Nepal in 2015. Buildings crumbled down to dust and Prak's hopes too were also shattered as he was unable to attend the retreat. The devastation hit him hard and personally. For the next several years an insurmountable fear and pain were a constant in his life. The Blues became his solace and his very best friend.
In February, 2017, he fell sick and was advised a bed rest. While he was scrolling through his news feed aimlessly, he came across a facebook page named "Acoustic Blues Pickers". He was intrigued on seeing a world of blues lovers like himself. There he listened to Robert Johnson's "Me and the devil blues". He practiced playing it for a week and shared what he played on the page. A Facebook friend, on seeing his post on the page, offered to help him and magnanimously sent him a resonator guitar and some slides.
For now, Prakash Slim is not only playing and doing research in Blues, but also teaching BITS aka Blues in the schools. He's recently finished a Blues exhibition for his school in Nepal. No doubt… he's committed to playing forward BITS programs, and hence, is living, by example the axiom "keeping the blues alive." in Nepal & beyond. He's now a recognized, internationally affiliated Artist/Performer and Educator of the Blues with the Mt. Zion Memorial Fund (Executive Director Dr. T. DeWayne Moore) Mississippi, USA since January 2019. Prakash is also active in a Blues mentorship program with T.J. Wheeler, a long time pioneer, advocate, activist teacher/performer of Blues, Jazz & related music and educator, from the USA. As a member of International Singer and Songwriters Association (issasongwriters.com) Georgia, USA Prak's own original Blues composition are also gaining him further attention.
Other exposure has included, being mentioned in America's first and leading Blues magazine – "Living Blues" in August 2019. A Nepali magazine called Yuwa Hunkar, published his autobiography where he says that Blues can be a music of healing for the people who've been through pain in life. His quote "B.B. King globalized the blues" is mentioned by the Phenomenal Scholar, Author and Storyteller Diane Williams in her new book's presentation – The Life and Legacy of B.B. King at Mississippi Department of Archives and History – 22 January 2020.
He was interviewed in The Nepali Times Australia magazine, Australia, October 2020.
He was interviewed by Tucson Unified School District teacher Patrick Brenan and shared blues knowledge for 5th grade students of John E White Elementary School Arizona USA in September 2020.
He was interviewed on The Phoenix Radio, Florida, USA with Big Low in September 2020.
He was interviewed on Kalakarmi Broadcasting & Media Production Company, Nepal in September 2020.
ķHe was interviewed in Blues & Co magazine, France in September 2020
He was featured in Washington Blues Society's Bluesletter magazine, August 2020 issue.
He was interviewed for Grateful Web media/news company, Colorado, America in July 2020.
He was interviewed for Down At The Crossroads, Ireland by Dr. Gary W Burnett on 26 June 2020.
He represented Nepal in International Blues Festival of Lima, Peru and published his biography in Almas Raices Productions, Lima, Peru.
He played for the Crossroads Confined Countdown Festival (France)on 4th June 2020.
A major Paraguayan newspaper ABC Color referred to him as a "Nepali Robert Johnson" and published his interview in May 2020.
He played in International Blues Festival of Asuncion, Paraguay (indoor)2020.
He represented Nepal in "World Unity Open Mic" virtual event hosted by The Fire – a legendary live music venue, Philadelphia, Pennylsilvania, USA on 18 May 2020.
He was interviewed for American Blues Scene magazine, Florida, America in May, 2020.
He was interviewed on Blues Radio International Viral Anti-Viral world Tour,Florida, USA on 17 April 2020.
He was featured as an international blues educator in Central Iowa Blues society for the month of Februrary, 2020 at Where in The World : A Blues Ambassador's Travel series.
He was featured on KFMG Radio 98.9 FM Des Moines, Iowa on 11 Februray 2020.
He was interviewed for www.blues.gr, Greek Blues Union with Michael Limnios in October, 2019
A feature story on him was part of a Vicksburg Blues Society's screening and presentation at Vicksburg Blues Challenge held in September 29, 2019. This was presented by Mississippi, Ambassador of Hall of Fame and president of Vicksburg Blues Society, Shirley Waring.
His country blues originals and covers were aired on July 2020 and July 2019 for an entire month on Blind Dog Radio (Blues Hall of Fame Radio) Ukraine, and featured on Highway Blues 2NVR – FM 105.9 (2nvr.au.org), Australia on July 4, 2019. His music is now increasingly being heard by in different countries in the western world, like USA, UK, Australia, Canada, Ukraine, Brazil, Israel, Chile and in many others.
He did collaboration with a renown Italian harmonica player, Grammy nominee Fabrizio Poggi on Robert Johnson's "Me and the Devil Blues".
A legendary blues artist Rory Block watched his interview on Blues Radio International and congratulated Prakash for his wonderful slide playing and International feel, in her home concert series on 21 April 2020.
Prakash has it in his heart that one day, he will play the Blues with a national guitar in Mississippi. For him it's the Mecca of the Blues …the land that gave birth to blues, the land in which he says 'is sacred to him."
You may find some of his country blues originals, covers and the "Blues in the schools" video clips on his Facebook page, ReverbNation and YouTube channel – "Prakash Slim".