India needs Gorkhali blood to protect its borders. Therefore, India respects Nepal by threatening and nagging
Bikash Thapa
२०७७ असार १३ गते १४:५७ मा प्रकाशित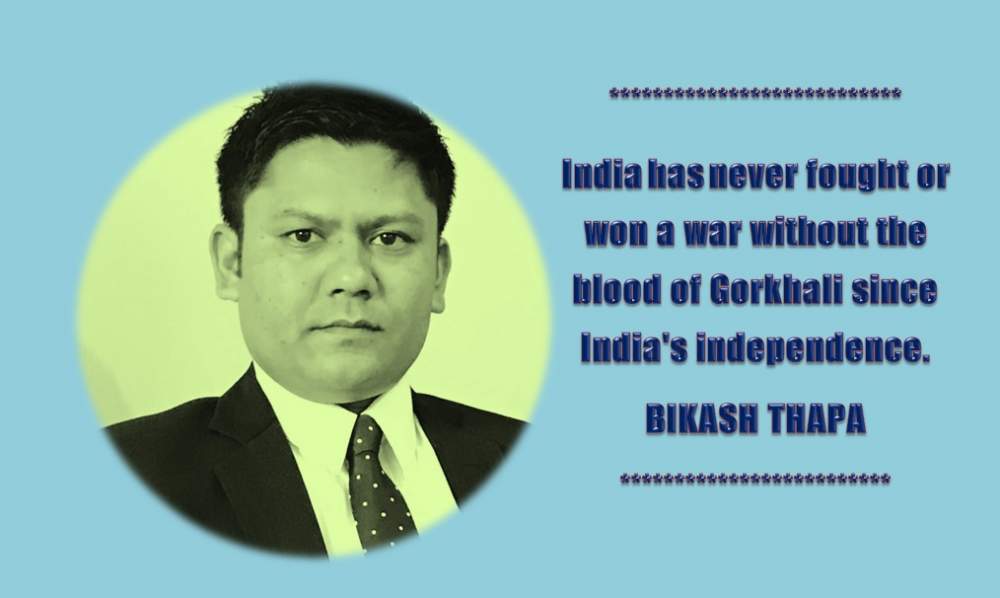 India has never fought or won a war without the blood of Gorkhali since India's independence. Gorkhali blood has been shed every time in India's border security. We also explain the wonderful relationship between India and Nepal. Is this really the case? If Nepal-India relations are to move forward with the ever Roti and Beti policy, both countries need to respect each other's existence. Otherwise the humidity increases. That is what has happened now. The Nepalese people have been conquered by India due to the heinous policy imposed by India on Nepal and repeated blockades. In other words, the trust of the Nepali people has been shattered.
This is an important question for the coming days. India has always wanted Nepal to be just a dancing butterfly under its own direction. Is this always possible? Nepal does not have its own existence and identity? Is it a crime for Nepal to protect its borders? Should small countries in the world continue to sacrifice their existence to big and powerful countries? If not, who speaks for the existence of a small and weak nation? On the one hand, there was unrest all over the world due to the big country's policy of bigotry. In this age of globalization, it will be very difficult for a small country to survive. Like Nepal, Bhutan, and Taiwan. In today's world, big countries may have to pay a heavy price for trying to outdo a small country. This is not in anyone's interest. Not being able to accept the superiority of a small country is a big disease in big countries. It must end in the world.
On the one hand, there was unrest all over the world due to the big country's policy of bigotry.
After a meeting of the Cabinet Committee on Security (CCS) chaired by Indian Prime Minister Narendra Modi announced that he would not talk about the latest issue with Nepal. Modi has decided not to comment on Nepal's latest move and not to set a date for bilateral talks, Aajtak reported. India has decided not to comment on Nepal's latest movie at the CCS meeting. On the other hand, it has decided not to set a date for bilateral talks. Since Nepal can internationalize this issue, India can now play the game of overthrowing the government and other vile games inside Nepal. India should be more sensitive than Nepal in this regard. But India does not seem to be sensitive. India has decided not to take any such step. The meeting was attended by Home Minister Amit Shah, Defense Minister Rajnath Singh, National Security Advisor Ajit Doval, Finance Minister Nirmala Sitharaman, and Chief of Defense Staff Bipin Rawat. Stating that there is a possibility that Nepal may unilaterally revoke the treaty-agreement with India. Modi instructed the participants in the meeting to be ready for it. What this means is that India has a strategy of waiting for the right time to push Nepal into the border dispute.
Modi has an amazing way of governing. Hindu extremists call it great, whether in Nepal or in India. Within hours of an Indian artist committing suicide, Indian Prime Minister Narendra Modi tweeted his condolences. Twelve hours later, Delhi received information about the soldiers killed in the border clashes. Ironically, Modi opened his mouth only two days later. Most of the soldiers died of cold after the clash. Some wounded soldiers were treated by China. If the Modi government has such an attitude towards the sensitive issues of its own country, how will it treat other countries?
Modi has an amazing way of governing. Hindu extremists call it great, whether in Nepal or in India.
On the other hand, the Indian people also blew up the TV they had at home called Chinese TV. They also lost money from this. China-made TV has exploded in India and China has no loss. He has sold the goods and the money has been taken away. The TV burst could further expand its market. Is India also entangled in such hollow nationalism? India now has a border dispute with all its neighbors. This shows who is bad in South Asia. India's neighborly policy could be an obstacle to peace in South Asia. India is deliberately taking suicidal steps. The lamp of South Asia peace is being extinguished.
India spends billions of dollars every year on arms and military equipment. But poverty within India is no less than in Africa. How many people in Bihar and Uttar Pradesh don't even have a normal meal and toilet to eat in the morning? Poverty should not be eradicated even if you try so hard. India does not like Nepal becoming successful and capable in this regard day by day. If Nepal succeeds in some things and succeeds in standing on its own two feet, then India will suffer the most. India never wants. The worst poverty in South Asia is within India. India will have to struggle for another three decades to get out of this poverty. But still, India has not stopped calling itself great.
India has also decided not to understand the EPG report. Despite repeated demands from Nepal to understand the EPG report. what is India trying to do by threatening not to understand the EPG report in any case? Modi's conclusion that there is no point in holding immediate talks with Nepal, not even understanding the EPG report. Even if Nepal unilaterally rescinds the treaty, it will not make any difference. This shows that Modi and India are not accountable to their neighbors. This is a violation of the rules of coexistence with neighboring countries. It is against international law. The Modi government is moving forward with a policy of humiliating and oppressing the neighboring countries. This may prove to be unfortunate for India in the future.
Today, the Indian media is shouting without understanding the true facts. The EPG report recommends ending the special relationship between Nepal and India. Is that true? India is busy talking like this. Trying to divert the subject matter every time. Nepal is seeking to resolve all kinds of bilateral issues through diplomacy. But India does not want that and has been procrastinating for 60 years. In such a situation, Nepal has given a clear message to use the language of military diplomacy if necessary for the territory under Indian control. This is no longer Nepal's will, it is an obligation. This problem is caused by the arrogance of being big in India. India is not at all serious about this.
This is a violation of the rules of coexistence with neighboring countries.
It is important for New Delhi to understand that its problems are no longer limited to Beijing. The problem of Beijing may be agreed upon at some point, but the problems of India are still the same as far as Kathmandu, Dhaka, Colombo, Islamabad, Thimphu, Male, and Rangoon. The more India tries to suppress these problems, the more the problems increase. It is in India's interest to move forward by acknowledging that relations with all its neighbors are now strained. To become powerful, India must be able to take its neighbors along. No matter how much Modi's government sings its own praises, the neighborhood policy has failed every time. Therefore, both China and India should stop pushing their neighbors. As big countries like China and India move forward with expansionist policies. Asia itself becomes turbulent. This is not in anyone's interest. It will be better for India and Asia to improve and move forward now. Fighting India and China is not a good indicator of world peace. It is important for both India and China to think about this in time.
The Modi government knows that an independent and older country should not be treated like this. But the Modi government is making a mistake. Waiting for the right time. It is interfering in Nepal's internal affairs. India has started to overthrow the government, create pressure, and threaten to take immediate action. Nepalis are no longer ignorant of Modi's plan. The Nepali people have now become very conscious and aware to protect their country. Be alert in time and make the necessary preparations. Modi's dream is to swallow not only Limpiyadhura, Kalpani, and Lipulek . The Indian cynicism towards Nepal does not end easily. For this, the Nepali people need to unite. Nepalis know very well about the Sikkim and Fiji models. Therefore, Nepalis are able to save their country in any situation. By the time Modi realizes the importance of the neighborhood, it will be too late.
It is interfering in Nepal's internal affairs.