Opinion: Nepali literature, Language, and our Irony
Bikash Thapa
२०७७ असार ६ गते १८:२० मा प्रकाशित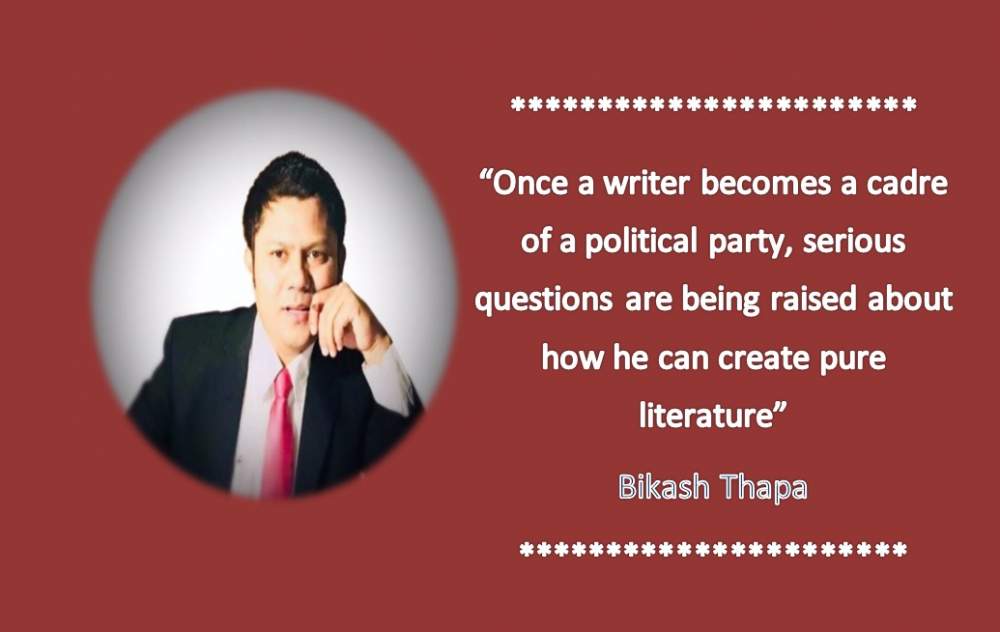 We could not even reach our own height. We have never been able to measure our own abilities. We couldn't even write about our great poets and writers. We could not spread the word. We have been living in poverty for so long, as if nothing had happened, we were living with a repressed voice. we were walking, we were bowing our heads. We have and had everything. But, we have never been able to recognize or identify. In order to be identified, one has to know and know oneself first. Why do we hesitate to show our talents to the world? We have not been able to say anything in front of the international literary world for our own fame and we have not been able to do anything yet. Do we have nothing to speak about, nothing to be proud of? Wouldn't world-class literature have been written by our forefathers? Of course not. It's just that we can't measure and recognize the height of our own strengths. The biggest misconception we have is that Nobel Prize-winning literature is the highest literature in the world. It is a misconception. It is the wrong tendency. It is the wrong mindset. This mentality is always pushing us backward and will continue to do so. If a book wins the Nobel Prize, that literature will never be great and high. It is a mistake to think that the Nobel Prize is the only measure of the quality of world literature.
It is the wrong tendency. It is the wrong mindset.
The history of Nepali literature is not so long. Obligation to write by deceiving the eyes of the Rana during the Rana period. Even at the time of writing, Nepali literature was limited and confined to his service and praise. Even before 2046 BS, it was allowed to print only by looking at the saffron before printing that it was written against Durbar and Panchayat. Another thing was that the conditions for printing were not as good as they are now, there were no readers and no printing press. Due to this, the growth of our language and literature did not happen as it should have. After the advent of democracy in 2046 BS, it became easy to write and print, but the biggest attack was on the Nepali language and literature. Due to this, our language and literature are shrinking day by day and this process is continuing. Language, literature, and culture are attacked first before any country is destroyed. If these three things are to be eliminated, it will not take long for the country's identity and identity to end. In recent times, attempts have been made to attack Nepali language and literature in various ways. Therefore, we also need to unite to preserve our language and literature. Language is not a subject confined to the narrowly political sphere of a country. At present, no one has official statistics on the number of Nepali-speaking people in the world. Apart from Nepal, a large number of Nepali speakers have settled in India, Burma, Bhutan, Thailand, and other countries and now they have reached various developed countries of the world and are carrying their language and literature with them. They are also immersed in countries outside Nepal to preserve their language and literature. Nepali speakers living in developed countries like the USA, Canada, Australia are engrossed in the campaign to save the language realizing the long-term importance of the language.
In recent times, attempts have been made to attack Nepali language and literature in various ways.
At present, Nepali literature has declined. Not unwritten. We have not been able to study, ponder, and even care about the level of our literature given to us by our forefathers. We have now produced thousands of poets and writers but we have not been able to produce quality. Cheap and propaganda literature was written and printed more. We have made literature a means and a means of abusing, demeaning, and humiliating someone. In poetry, love could be written, philosophy could be written, contemplation could be done, words of liberation and consciousness could be written, enthusiasm, courage could be written. Repressed voices had to be raised. Poets and writers could only produce a book by checking themselves several times in terms of quality, but there was no standard for measuring such quality. The one who was able to influence and use the media, even though he did not write well, managed to spread all over the media, which led to good and bad. Those who were able to write at a high level but could not expand their reach and ability to the media were always left behind. Now before we write, it is necessary to delve deeper into study and contemplation. And only in literature can the pen be used in a standard way. In recent times, singers, poets, and writers have been found one by one in the team, but there is no measure of standard and quality. Now the steps taken by our literature should not only be quantitative but also qualitative. Where will this level of literary writing take us tomorrow? This is a matter of concern for everyone.
And only in literature can the pen be used in a standard way.
As long as we remain, seasonal writers and literary men, the height of our literature will never rise and so will our heads. Second, we must immediately stop all-out attacks, insults, and anarchy in our language. Even the distinguished professors of Nepali language and literature bought with some foreign money are working hard to finish the Nepali language. We need to understand the conspiracy in time. By straightening out the language, no one's identity will survive tomorrow. Even after realizing this, they are blinking their eyes at someone's provocation. We also need to preserve language and literature to preserve our identity. The language debate is no longer confined to Mechi Kali. This is not just a debate within this caste, that caste, class, lidg, sect. Now it is necessary to move forward with a broad mindset and a broad vision. It is very sad that there is a dispute within Nepal over the issue of the Nepali language. The national language is the mother. Due to which we have been able to connect with each other through language. Will keep.
We have not been able to reach the height of consciousness that Devkota thought in Nepali literature in recent times. We need to realize that. What is the purpose of "touching the deep moon one". This statement of the great poet Devkota is very important for us. We also looked at pure literature on the basis of caste and gender. Our way of thinking is not right. We have walked and are walking today with a bewildered heart and the same kind of philosophy, thinking contemplation. Looking at other countries, they respect their country's writers as the jewels of the country. Language has the same respect and dignity, but we have not yet developed that habit. Even if it is not enough. Ironically, we have not been able to respect and honor ourselves and the good. We now need to think in a new way about Nepali literature. We should not only make the irony and the situation powerful now. It is too late for us to take our strong and proud step forward in the world market by making our literature high. The world market is not always ready to wait for us. We need to do more than talk. It is necessary to make every genre of literary writing qualitative rather than propaganda oriented. All genres of literature are equally important. In literature, we have to get rid of the tendency to say that the genre we write is good and the genre written by others is bad. This genre of literature is right and it is never good or bad. This is a very bad mindset. All genres of literature are always excellent and of equal importance.
The world market is not always ready to wait for us. We need to do more than talk.
Nowadays, literature written by our own writers is readable for us in any level curriculum of Nepal's universities. There is no shortage. This is another strength of ours. The recent flood in Nepali literature, the development of reading habits, the addition of new writers, the publication of new books every day is a positive aspect for Nepali literature. It is a matter of great happiness that literary writing, printing, publicity, the way in which new readers have been born during the last 27/28 years, but it is certainly not a place and point of satisfaction. The government has not been able to appreciate Nepali language, Nepali literature as well as other languages ​​are spoken in the country and literature written in those languages. Therefore, the government needs to come up with more programs and plans for its development. The field of literature would have become more attractive. If the state could have provided salary allowance to the writers who have achieved national heights based on their contribution to literature. Pragya Pratishthan has not been able to work in the field of literature in an encouraging manner as before. Even Pragya Pratishthan is turning into a political arena due to the practice of appointing political activists who do not understand literature. Nepal's political parties have not allowed any writer to live as a pure writer. No matter how deserving he is, he will not get any opportunity unless he carries his party's bag. Therefore, this politics that has infiltrated Nepali literature is a cancerous disease for Nepali literature. At the same time, the neglected literary field in Nepal has become even more devastated due to political transition and interference.
Pragya Pratishthan has not been able to work in the field of literature in an encouraging manner as before.
Once a writer becomes a cadre of a political party, serious questions are being raised about how he can create pure literature. Will he create charity or literature for his party? Therefore, the current literary debate, the current intellectual revolution must be purely non-political. As long as the cancer of politics is spreading, it is now difficult for Nepali literature to stand on its own two feet. In other literature, it is necessary to bring forward more programs for quality writing, marketing, and readership. Nepali literature is now failing in these three aspects. Our literature has not been able to reach even remote and remote villages. If at least 2/4 libraries could be established in one village and textbooks could be made available, Nepali literature would be read even in remote settlements and new readers and new writers would be born. So much for Mechi Mahakali, but Nepali language and literature are no longer limited to inside Nepal. With the global migration of Nepali speakers, it has become global. Therefore, it is necessary for us to carry out the current plan, the current debate, the current intellectual revolution globally, and in a new way. By doing this, our language and literature will one day become world-class.
(Bikash Thapa is a freelance writer, poet, and songwriter. )