Various activities / readiness in NASeA's region to be safe from COVID 19 ।
इनेप्लिज
२०७७ वैशाख ९ गते २१:४८ मा प्रकाशित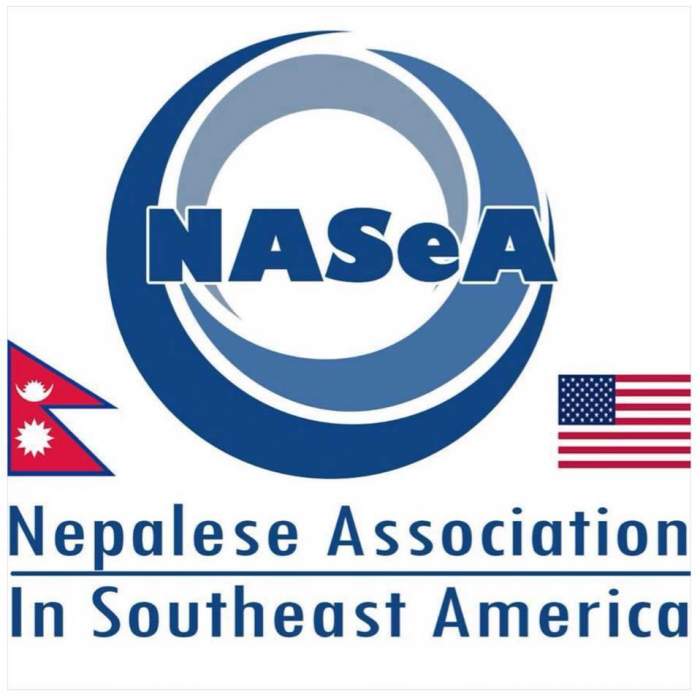 Respected Community members
Namaskar
Hope this email finds you all and families in good health and shape . Strictly implementing and following all preventive measures to be away from COVID 19 is the only the most important and effective way during this pandemic situation . It is being learnt that you all leaders, volunteers and all community members  are doing the best to save all our community members from this COVID 19. In our NASeA's region as well, many of our regional, states and local level social organizations have done many activities so far and are continuing to organize many activities for the readiness to be safe from this COVID 19. Here is the consolidated list of all activities in our region so far .
Nepalese Association in southeast America ( NASeA ) Activities relating with COVID 19
NASeA has been continuously informing to all our community about the updates and request to follow all preventive measures to be away from COVID 19 . NASeA had
Formed a Health Help Desk with following medical professionals .
Organized facebook live interaction about COVID 19 with official representative of Health ministry of Nepal,  corona virus lab expert, others doctors and epidemiologist. This was jointly organized with NRNA ICC Global Health committee and moderated by chair of this committee / NASeA former president Sanjeeb Sapkota .
Organized facebook live to know all about coronavirus and the preventive measures to be safe from this virus , with Dr Niraj Karki and Dr Ramu Kharel, moderated by NASeA Former President Raja Ghale .
Organized interstate coordinating meeting with majority of NASeA's region state / local organization heads together with interaction Dr Santosh Sapkota, President of America Nepal Medical Foundation and Ms Manju Saungraula, president of Society of American Nepalese Nurses.
NASeA Youth Committee organized an interaction program about Mental Health along with virtual Yoga and Meditation led by professional Yoga Instructor Ms Manaswi Sangraula .
NASeA had established a COVID 19 emergency fund from its executive board and helped with Tylenol to at least 50 COVID 19 affected families of NY Nepalese Community .
NASeA is constantly in communication with Nepal Embassy of USA and all state level organizations of our region .
NASeA's blood drive and health awareness committee and public relations committee are also working to address this pandemic issue .
NASeA has also established a dedicated help line phone number # 4049072942. This number can be reached at any time and the entire NASeA's executive committee would be happy to receive the call and help the affected families .
Nepal Center of North Carolina (NCNC ) activities
NCNC has established a special fund at least with $ 3000 (  NCNC COVID-19 विशेष कोष" स्थापना ) now and will be increased if necessary later on to help all COVID 19 affected individual/ families .NCNC had informed to all community members to let NCNC know with any of following if any one faces any problems due to this COVID 19 .
1. Rabindra Karki: President, NCNC 919-539-9954
2. RP Poudel: 919-798-9297
3. Kamal Kafle: 919-348-0712
4. Yogendra Gautam: 919-561-2140
5. Ananda Ghimire: 919-454-1645
6. Shiva Bhattarai: 919-780-3126
7. Bhagawati Neupane: 919-637-0619
8. Dharma Raj Pantha: 402-312-1380
9. Laxmi Nath Poudel: 919-279-0068
10. Prem Kumar Pradhan: 919-656-2218
11. John Poudel: 952-210-1116
Community Volunteers:
12. Kulananda Sharma ,President (NRN-13. NC Chapter): 919-272-0327
14. Sudan Thapa: 214-679-3907
15. Pooja Nepal: 919-793-8496
16. Suman Osti: 773-386-4006
17. Mohan Pahadi: 912-398-1042
18. Sita Baral: 919-946-4871
19. Tripti Belbase Swar: 923-237-0142
20. Sudan Gaire: 571-242-2509
Nepalese Association of Georgia (NAG ) Activities
NAG had established a dedicated helpline to help COVID 19 affected individuals/ families with following COVID Task Force Volunteers.
COVID Task Force Helpline
Phone: 678-310-9131 (9AM – 9PM)
Email: [email protected]
COVID Task Force Volunteers
1. Anup Srivastav
2. Bimal Regmi
3. Binod Thapa
4. Birendra KC
5. Damu Dongol
6. Dilip Baniya
7. Kumar KC
8. Nridesh Sharma
9. Pranaya Rana
10. Prem Baniya
11. Saurav Bhandari
12. Sugum Pokharel
13. Suman Thapa
Nepalese Association of Florida ( NAF ) Activities
NAF had formed a following COVID 19 Response Team ( CRT) to help all COVID 19 affected communities in various cities and all over the Florida . NAF is planning to provide a dedicated helpline to contact instead of following individual numbers of CRT in case of any problems relating with this pandemic situation . NAF has also been organizing " Mindfulness- one hour session " via zoom in every Saturday to feel relax during this lock down situation . NAF and INLS Florida Chapter have also jointly organizing virtual Nepali Pathshala . NAF had also helped to at least 100 NY Nepali affected families with Tylenol, Masks and hand sanitizers along with some medical protective suits in High Point , NC regional medical Sys. NAF also established an emergency fund to help exclusively for COVID 19 affected families .
NAF COVID 19 Response Team ( CRT) is as under .
Chair , NAF CRT
Krishna Shrestha , WPB – Chair / 5613100694
Miami Area
Shiva Nepal – Miami / 7866206627
Dr Choodamani Khanal – Miami /7867976412
Fort Lauderdale to St Port Lucie
Dr Niraj Shrestha – Fort Lauderdale / plantation/ – 3057901620
Ram Thapa – WPB/ 5613139721
Binod Basnet – WPB/ 5618665443
Orlando and surrounding
Bikash Devkota – Orlando / 4074531732
Dr Nagendra Dhakal – Orlando / 4073735475
Narayan Neupane – Orlando / 4073762758
Tampa and Surrounding
Dr Pragati Ghimire – Tampa /6174606665
Deep Karki – Tampa /8137535616
Gainsville – Jacksonville
Ms Anila Neupane – Gainesville / 5714421610
Dipendra Sahi – Gainesville /3523178283
Kalpana Shrestha – Jacksonville /9043149584
Jaya Khakurel – Jacksonville / 9047380907
Tallahasee and Surrounding
Bishal Gautam – Tallahasee /3522139234
Mitra Khadka -Tallahasee / 3528705527
Tej Paudel – Tallahasee / 9016128870
Nirjal Shrestha -Tallahasee / 5806955882
INLS Florida Chapter Activities
INLS Florida Chapter had organized virtual literary / poetry meeting and sharing all about COVID 19 with professional Nepali Medical Doctors /health Researchers / epidemiologist. INLS Florida chapter is also planning to continue virtual Nepali Pathshala in Florida .
Nepalese Community Center Orlando NCCO Activities
NCCO had also formed a following team to help COVID 19 affected families in Orlando and surrounding .
COVID-19 Relief Coordination Committee(CRCC) team  comprise of following members:
Coordinator, Bikash Devkota             ( Ph:407-453-1732)
Vice Coordinator, Rajendra Shrestha      (Ph: 407-702-8422)
Memeber, Ram Rai ( Ph: 407-267-0976)
Member, Dinesh Maharjan
Member, Rajib Shrestha
Member, Dr. Nagendra Dhakal
Member, Kalu Bhattarai
In Alabama NANA and ALNA have also helping and continuously informing local communities about COVID 19 .In Louisiana, Mississippi, Tennessee , South Carolina and Virginia , our communities are also helping each others to be safe form this COVID 19 .
Stay safe! Be safe yourself first and help to save others!
Thank you
Respectfully
Krishna Shestha
General Secretary
NASeA
21 April 2020