Rapid Health Response Team of NRN Conducts Medical Checkup in Flood Affected Area of Rautahat in Nepal
इनेप्लिज
२०७६ असोज १९ गते १६:१६ मा प्रकाशित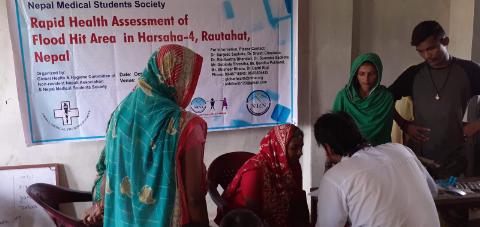 A team of doctors and health professionals representing Global Health & Hygiene Committee of NRN-ICC and Nepal Medical Students Society provided medical checkup, health counseling and conducted rapid health assessment in rural Harsaha village of Rautahat district of Nepal where recent flood claimed over 30 lives.
"The Rapid Health Response Team is a unit of Global Health & Hygiene Committee of NRNA-ICC and it was immediately deployed to the flood hit area who arrived in Harsaha and conducted rapid health assessment and gathered a critical mass to conduct medical checkup and health counseling,' said Dr. Sanjeeb Sapkota, the chairperson of Global Health & Hygiene Committee of NRNA-NCC. He also supervised the deployment.
Dr. Sanjeeb Sapkota further said, "The field deployment team was led by Dr. Shakti Chaurasiya and consisted of Dr. Samir Kaji Basnet, Puspa Raj Acharya and local volunteers, and the team was coordinated in Nepal by Dr. Siddhartha Bhandari with support from Gobinda Shrestha, Dr. Mukti Shrestha, Bandhu Pokharel, Ram Pokharel, Dr. Badri Rijal, Radha Poudel, and Dr. Surendra Sapkota.
"There was a total of 110 households in the village of which a total of 132 residents came for the medical checkup." Said Dr. Shakti Chaurasiya, who is also the president of Nepal Medical Student Society (NMSS).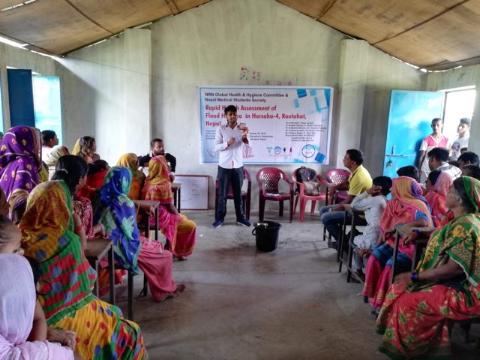 "Children, women, elderly, both disabled & able-bodied persons came for the medical checkup and health consultations. The ailments people presented with were mostly diarrhea among elderly, fever among children and back pain among women," said Dr. Chaurasiya.
"The onset of the fever among children was recent and ran high so we suspected it to be the viral fever." "There are around 18 pregnant women in the village. Of them only around 7 are taking iron and folic acid supplement. These supplements are a must during pregnancy and when asked why they were not taking them it was shockingly revealed that iron tablets were either perceived as harmful to body or the family taboo kept them away," said Dr. Shakti Chaurasiya.
"Some of these women were seven months into pregnancy and complained of burning urination, so we provisionally diagnosed urinary tract infections and gave out antibiotics and advised them to follow up in the hospital," further said Dr. Chaurasiya.
The Rapid Health Response Team demonstrated the chlorine-based water treatment liquid for its proper use and was distributed among the village residents. Over 400 packets of Oral Rehydration Solution was distributed.
"Shortage of chlorine-based water treatment liquid posed a problem, but we managed to gather enough to take them with us to the village," said Dr. Samir Kaji Basnet, another member of the team.
Harsaha village is in the banks of Lal Bakaiya river that flooded during the recent disaster. Maulpur is the village in the other side of the river. The region falls in Chhetra number 1 represented in the parliament by Prabhu Sah. Majority of the village demographic consists of Muslim community.
Upon conducting the rapid health assessment, the team found that the water supply of the village was underground water pumped out by tube well. The municipality has recently constructed tap water systems in few places. Over eighty percent of residents had toilets in their home but the rest still went to open field for the defecation. There was one health post nearby led by health assistant. There was one school in the area.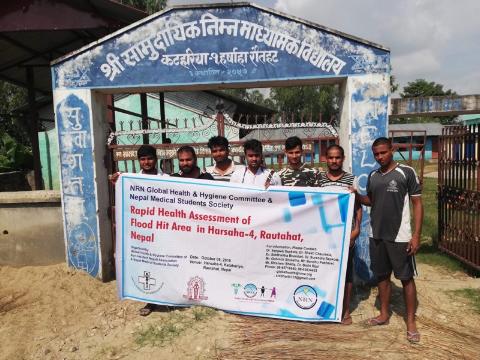 "The reason for not taking iron and folic acid supplements in the village community should be urgently researched and the adequate health counseling and follow up need to be done," said Dr. Sanjeeb Sapkota. "It should also be brought to the attention of the health minister who is very considerate of health disparity and inequity and would surely mobilize some actions," He added. "We have recently joined hands with CARE USA whose mission is to help ensure adequate nutritional supplement to women and children. This collaboration should be useful for a targeted intervention in these communities," he further said.
"The Global Health & Hygiene Committee had conducted similar rapid health assessment in the Bara Parsha district in early April of this year when 39 people lost lives to the devastating tornados and hurricane. Like then, the findings and recommendations of this health assessment will be shared with the ministry of health and other stakeholders," said Dr. Sapkota.
"A rapid medical team is an important action item of the Atlanta Declaration that came out of the 1st Global Nepali Health Conference held in Atlanta in September of this year and it will be further strengthened with collaboration with Nepali Medical Student Society and Nepal Medical Association," said Dr. Sanjeeb Sapkota.
"The team will be commissioned to provide immediate medical help to the disaster-stricken area in any corner of Nepal within 24 hours and to provide epidemiological health assessment." said Dr. Sapkota.