Deevyaa Securities Partners with Khalti to Enable Demat and MeroShare Renewal Fee Payments to Its Customers
इनेप्लिज
२०७६ भदौ २ गते ११:०६ मा प्रकाशित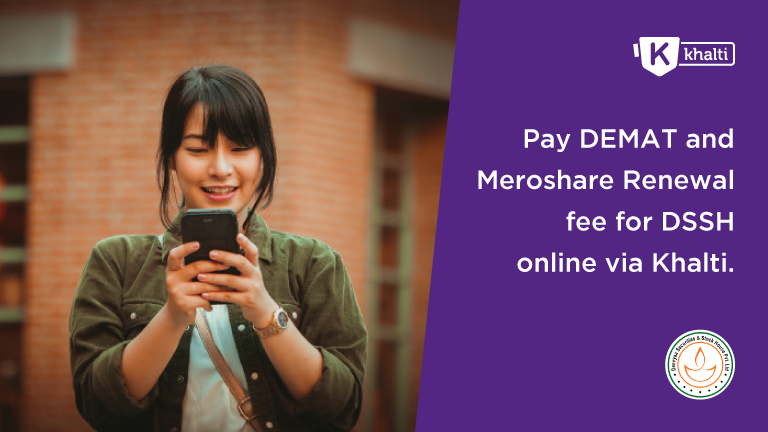 Khalti, an emerging digital wallet and payment gateway in Nepal has partnered with Deevyaa Securities & Stock House (DSSH) Pvt. Ltd. DSSH is member broker of Nepal Stock Exchange (NEPSE) and a registered and licensed Depository Participant (DP) of CDS and Clearing Limited, the central depository of Nepal.
After this partnership, DSSH has started using Khalti's payment gateway for digital payment processing. Now, customers of DSSH will be able to pay the renewal fee of their Demat and MeroShare accounts directly from Khalti app and website. They can avail the Demat and MeroShare renewal fee payments facility at no extra costs, in a very secure and reliable way. All the transactions in Demat and MeroShare renewal fee payments take place in real-time.
DEMAT is an account that allows investors to hold their shares in an electronic form. Users must have DEMAT account to enable electronic settlements of all the trades. DSSH provides an easy and reliable approach to open DEMAT Account. So far, more than 6500 clients have opened DEMAT account in Deevyaa Securities.
Speaking about partnership with Khalti to enable DSSH customers for digital payment of Demat and MeroShare renewal fee, Ram Prasad Acharya, Managing Director of DSSH shared,
"We are excited to collaborate with Khalti. Now, our customers can pay their Demat and MeroShare renewal fee directly from their smartphone using Khalti app. In addition to benefiting the customers, going digital will benefit stock brokerage houses like DSSH as well since it will help in keeping track of renewal fee payers and make it easier to track irregularities."
Similarly, Khalti's Managing Director Manish Modi shared,
"We are glad to collaborate with Deevyaa Securities & Stock House and enable its customers to make payments easily using Khalti's app and website. Now DSSH customers longer need to visit the broker company's office or bank to perform tasks as simple as paying the Demat and MeroShare account renewal fee. They can pay the account renewal fee in a very easy, convenient and secure way using Khalti app and website in just a few clicks. It is a gesture from Khalti that all fee payment services are going digital."
Process for Deevyaa Securities Demat and MeroShare payment using Khalti:
Tap on Share icon on the home screen.
Tap on Deevyaa Securities icon and choose Demat or MeroShare. Enter Client ID (16 digit Demat account number) and tap on Get Details button.
Demat/MeroShare account details, and payable amount will be shown. Tap on Pay.
After the successful payment, the Demat/MeroShare account will be renewed automatically.
About Deevyaa Securities & Stock House Pvt. Ltd.
Deevyaa Securities & Stock House Pvt. Ltd. (Broker no. 59) is a stock brokerage house licensed by SEBON for serving the capital market of Nepal. It is also a member of Nepal Stock Exchange Limited (NEPSE) and registered Depository Participant (DP) with CDS and Clearing Limited (CDSC).
The company aims to provide a unique organization culture which would help break all barriers that investors face in Nepal in terms of service, knowledge sharing, support, and customer care.
Since the establishment, it has been rendering outstanding services to clients from different walks of life. Transparency, long term client relationship has always been of high priority of its management, which in turn has yielded sustainable growth and smooth operation of DSSH. It is providing Stock Brokerage and Depository Participant (DP) Services from its head office in Kathmandu and branch at Baglung. Its management team is dedicated and is always determined to provide the best of the services unsurpassed in this sector.
It offers a fast, competitive and reliable stock brokerage service to all the investors. The company's vision is to be recognized by the client as the best and most trusted brokerage house in Nepal.
The company offers DEMAT services, depository services, and stock brokerage services.
About Khalti Digital Wallet
Launched in January 2017, Khalti is an emerging mobile payment solution in Nepal. During this very short period, Khalti has emerged as one of the most preferred payment choices amongst customers in Nepal. Khalti allows users to top-up their mobile balance, pay DTH bills, internet bills, various utility bills, book movie tickets, flight tickets, hotel rooms, top-up Tootle balance, make payments for food ordered online at Foodmandu, and pay at various online shopping sites in Nepal. Users can avail all these services through its app and website.