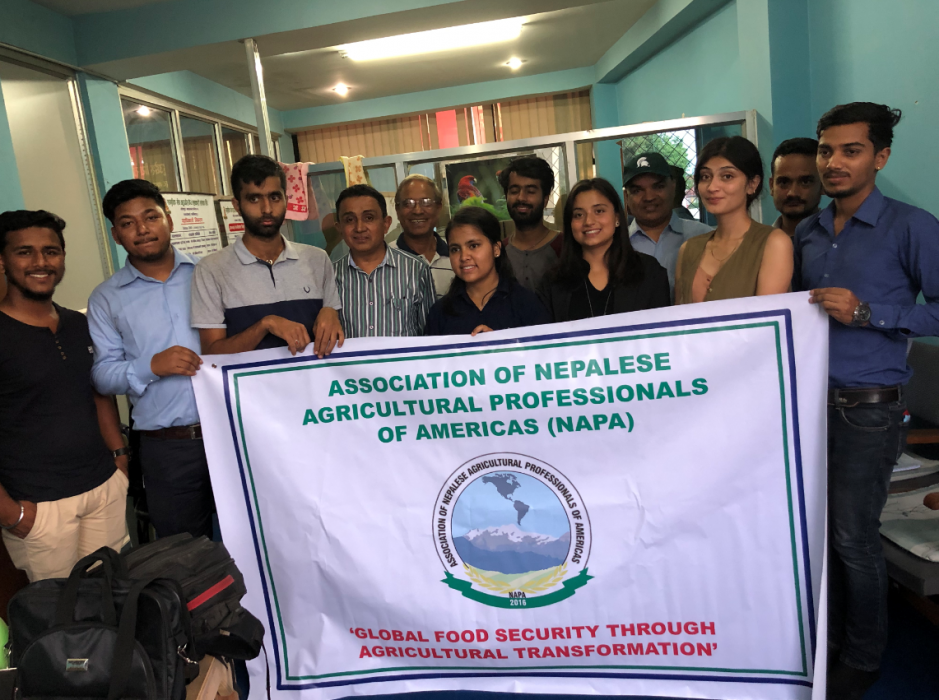 The Resource and Capacity Building Committee (RCBC) of Association of Nepalese Agricultural Professionals of Americas ( http://(NAPA, http://napaamericas.org/  ) has established a competitive Research Mini-Grants (RMG) program to fund applied research projects in Nepal. Through this grant, NAPA seeks to support Nepal-based educational and non-profit research organizations to conduct small-scale high-impact research in the fields of Agriculture and Allied Sciences. The overarching goal of this program is to help conduct utility-focused research on education and extension projects for productive, economically viable, and environmentally sustainable plant and animal-based agricultural systems.
The RCBC had received thirty-two (32) research proposals. The majority of the applicants were undergraduate students (20), followed by master's (7), doctoral students (3), and university faculty (2). The applicants represent Agriculture and Forestry University (17), Tribhuvan University (13), and Kathmandu University (2). The proposals were in the field of horticulture, animal health, food science, plant protection, and cereal production, among others.
After two rounds of blind review of each proposal by three NAPA members, NAPA Executive Committee with recommendations from RCBC funded 12 proposals amounting NRs. 360,865.00 (three lakh sixty thousand eight hundred and sixty-five rupees) in support of individual research not exceeding NRs. 30,000.00 (thirty thousand) each. Of 12 awardees, eight are from Agricultural and Forestry University, while Tribhuvan University and Kathmandu University have three and one awardees, respectively. Seventy-five percent (9) of the grant recipients are undergraduate students, while two master students and one faculty member also received the grant. Five of the grant recipients are females.
Similarly, NAPA awarded three Research Mini-Grants equivalent to NRs. 30,000 (thirty thousand) to the students in Campus of Live Sciences (MARICoLS), Dang, Nepal. NAPA, with the coordination of its Nepal Liaison Mr. Kiran Ojha, organized a mini-grant contract signing Ceremony on May 27, 2019, in Lalitpur Nepal, and the first half of the grant was distributed. The program began with an introduction of the participants, welcome note by Dr. Ramjee Ghimire, NAPA RCBC member and Editor-in-Chief, Research, and Policy Brief, and a keynote by Mr. Kiran Ojha. Dr. Ghimire and Mr. Ojha congratulated awardees for being selected for this competitive grant and wished them success in their research endeavors.
They added that NAPA is encouraged by the enthusiasm Nepalese agricultural professionals have shown to this program and looks forward to generating impactful research outcomes. Dr. Ghimire suggested awardees to keep in contact with and seek advice from their local and NAPA advisors as and when needed during their research. NAPA is anticipating researchers to produce publication-worthy deliverables and some of them may be published in NAPA's own publications –GJAAS Journal and Research Policy Brief.
Awardees were excited and encouraged to be part of this grant program and to be able to get connected with NAPA. NAPA RCBC will follow-up with awardees to monitor the grants during the course of research and assess the outcome after completion of these funded projects. On behalf of NAPA Executive Committee, President Dr. Lila B. Karki extended thanks and appreciation to all generous RMG donors, hardworking RCBC members, and well-wishers for their enthusiasm, contribution, and participation in implementing the Research Mini-Grants program for a great cause of 'Global Food Security through Agricultural Transformation.'