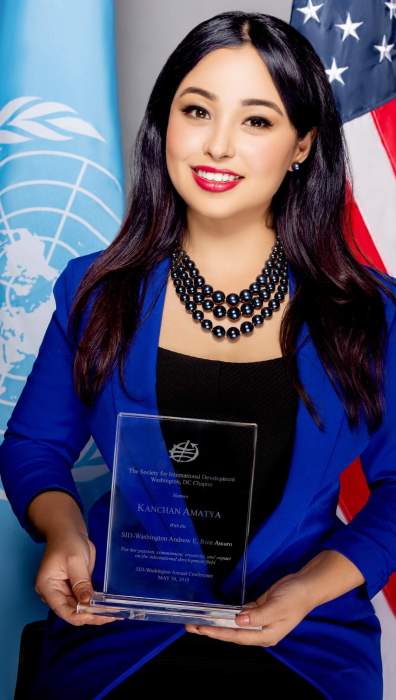 Washington DC: Kanchan Amatya from Nepal has been honored with the prestigious 2019 Andrew E. Rice Award for Leadership and Innovation in International Development at the Ronald Reagan International Center, Washington DC. More than 1000 high-level professionals from all sectors of international development around the world gathered together to recognize and celebrate her achievements as an exceptional young professional working in the field of international development. 
Previously named "The Truman Award," the award was established in 2003 by Andrew E. Rice to honor leadership, innovation, impact and commitment. Late Andrew helped initiate prominent development initiatives, including the U.S. Peace Corps.
Applicants for the award focused on virtually all sectors of international development and hailed from 22 countries around the world, including Afghanistan, Brazil, Cambodia, Canada, Chad, the DR Congo, El Salvador, Ethiopia, France, Ghana, India, Jordan, Kenya, Lebanon, Myanmar, Nepal, Nigeria, Palestine, Uganda, the Ukraine, and the United States. Their work focused on a broad range of sectors and topics, including Youth, Women, Healthcare, LGBTQ rights, Agriculture, Policy & Law, Education, Technology & Innovation, Economic Development, Poverty, and the Environment.
Listed on Forbes 30 under 30 lists, Ms. Amatya currently serves as a UN Women's Global Champion for Women's Economic Empowerment and is the founder of social enterprise, Sustainable Fish Farming Initiative, which works with rural farmers to combat extreme hunger and poverty. Kanchan has previously Most recently, Kanchan worked with Women Thrive Alliance, where she helped to build a network of over 300 grassroots women's rights advocates in 53 countries and supported their involvement in a plethora of SDG-era decision making processes at the United Nations. She previously co-led the Youth Assembly at the United Nations' Resolution Committee and mentored its young delegates from 80+ countries from across Asia, Africa, Europe, the Middle East, and South America. Kanchan is committed to inspiring and mobilizing a new generation to serve their community, creating a world where nobody is uneducated or goes hungry, even for a single day. 
"Kanchan's passion and commitment as an advocate for solving extreme hunger and poverty, combined with her practical and innovative approach to engage beneficiaries in the design and implementation of her programs, set her apart as a leader in international development," said Katherine Raphaelson, President of SID-Washington.
In her address, Kanchan dedicated the award to underserved women and girls around the world. She said, "As I accept this award today here in DC, I cannot forget the women and girls in my home country Nepal and around the world who are out of school, whose rights are violated, whose dignity is denied and whose voices cannot be heard. This award serves as a reminder that our united battle to create prosperity and equality for all is not yet won, but is worth pursuing."

In addition to Ms. Amatya, SID selected two Honorable Mention winners: Johnmary Kavuma, Founder and Executive Director of Kimuli Fashionability; and Roberto Zapata, General Secretary of Amate El Salvador. 
For more information on the Rice Award, its history, and the application process, please visit https://sidw.org/2019-andrew-e-rice-award.  
Photos: https://drive.google.com/drive/folders/1SDU53Yoxqn_JZV8EnhIfpBX21BPwn1oc?usp=sharing
Video:
https://www.youtube.com/watch?v=GGIRuc0UPbI