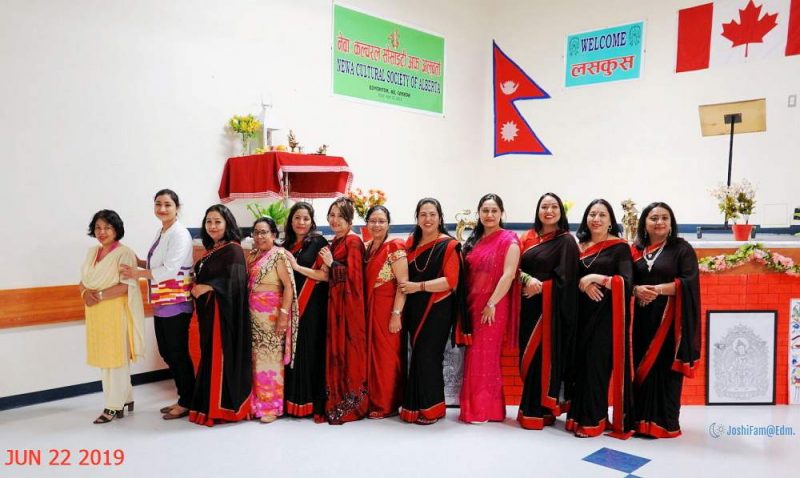 The Nepalese community in Edmonton, Canada observed annual Sithi Nakha and Bungdyah Jatra festivals amidst a special culture event at Duggan Community Hall on June 22, 2019. The cultural event was organized by the Newa Cultural Society of Alberta (NCSA), a local organization established in April 22, 2013 to practice, promote and preserve Newa culture and traditions in Edmonton, Alberta, Canada.
The cultural event was inaugurated by Mr. Janaki Das Ranjitkar, a senior member of the community, by lighting a Panas, traditional Nepali artistic oil lamp. In the inauguration ceremony, Ganedyah (Ganesh, the god of beginnings); Sithidyah (Kumar, the god of protector); and Bungdyah (Rato Machindra Nath, the god of rain and good harvest) were worshipped offering freshly cooked Wo (an ethnic pancake made from black lentils) and Chataamari (an ethnic pancake made from rice flour) as well as Chakusala (a special ethnic candy made from sesame seeds and molasses). As part of the ritual, Prasad (Chakusala) was distributed to the participants as divine blessing.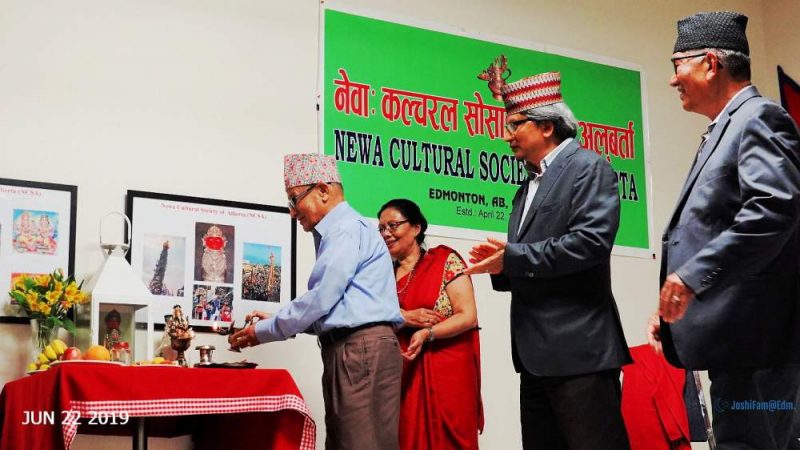 Welcoming the guests and community members, Dr. Hemanta Joshi, President of NCSA, highlighted on the importance of Sithi Nakha and Bungdyah Jatra festivals. According to Dr. Joshi, Sithi Nakha has environmental significance as on this day, people clean major water sources such as ground wells, stone water fountains and springs in their community. Bungdyah Jatra festival is the longest festival of Nepal. During this festival, two tall chariots [one belongs to Bungdyah and another belongs to Chaquadyah (also known as goddess Min Nath, sister of Bungdyah)] with four wheels are pulled around the Patan city halting for several days in main localities to perform special worships and celebrations. This unique festival concludes by displaying an ancient Bhoto (ethnic inner vest studded with precious jewelleries) to the public from four corners of the chariot at Jawalakhel. According to Dr. Joshi, the chariot used for pulling Bungdyah is about 65 feet tall and is the tallest chariot in the world.
Dr. Joshi also talked about the importance of Guthi (a religious or social trust) system in practicing and preserving unique Newa culture and traditions in Nepal and around the world. Dr. Joshi also stressed the need for scrapping completely, not just for withdrawing for amendment, the controversial Guthi Bill recently tabled in the National Assembly by the Nepalese Government.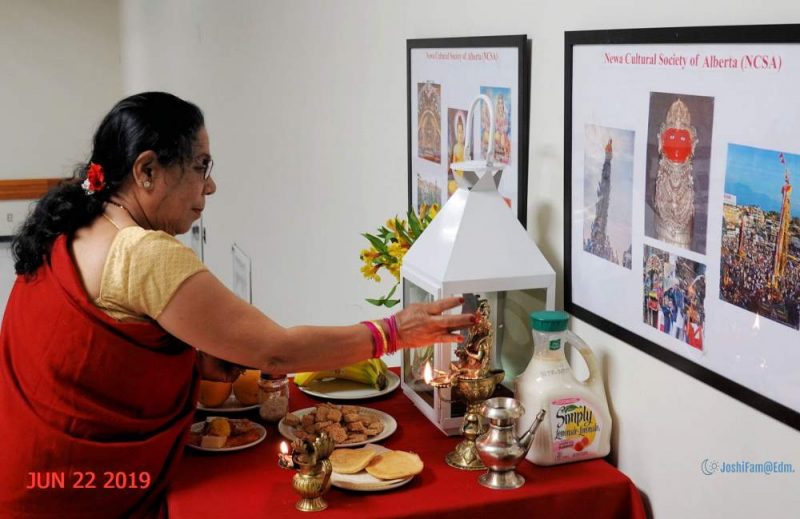 In the cultural event, Mr. Janaki Das Ranjitkar briefly spoke about Sithi Nakha festival. Similarly, Mr. Dwarika Nath Shrestha spoke about the significance of Bungdyah Jatra festival in detail. During the cultural event, participants were served with Wo, Chataamaris and Achar (an ethnic appetizer) as refreshment. At the end of the cultural event, a delicious ethnic dinner was also served to the participants.