Mithila Festival & Art Exhibition Inauguration at UN Headquarter, New York
इनेप्लिज
२०७५ चैत २६ गते २१:२५ मा प्रकाशित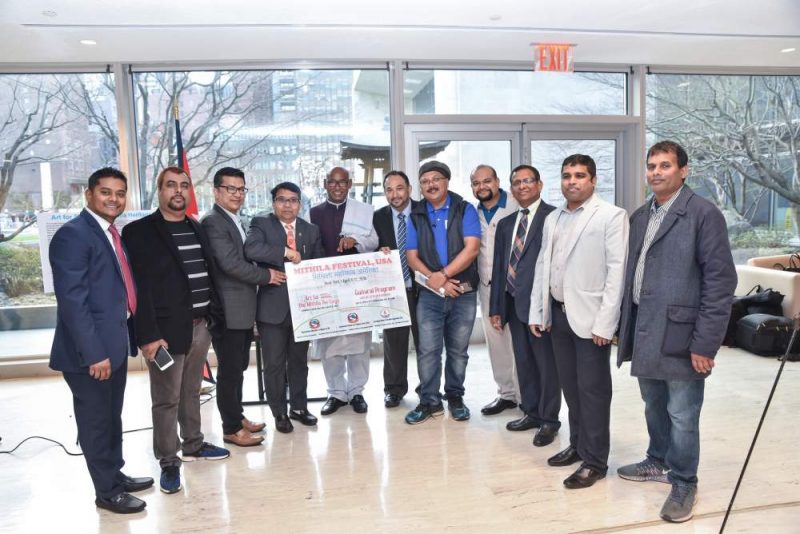 Inauguration of 1st Mithila Festival USA & Art Exhibition entitled 'Arts for SDGs: the Mithila Heritage' held today at UN Headquarter jointly by H.E. Amrit Rai (Ambassador/Permanent Representative of Nepal to UN and Hon. Mayor Lal Kishore Sah, Mayor of Janakpurdham Sub-Metropolitan City, Nepal.
Created by the artists of Janakpur Women's Development Centre, the paintings on display depict the 17 SDGs in Mithila Art which is a traditional artform existing in Janakapur area of Nepal. Further, the Mithila paintings created and exhibited here by renowned artist Ajit Kumar Sah, demonstrate not only the Humanity overwhelming nature but also highlights the traditional association of the empowerment of women practicing Mithila Art and our commitment of our community's cultural heritage promotion and realization of sustainable development goals which are also priority of the United Nations itself. Organized by Permanet Representative of Nepal to UN in association with Mithila Festival, USA, the exhibition at UN HQ will run till April 12, 2019.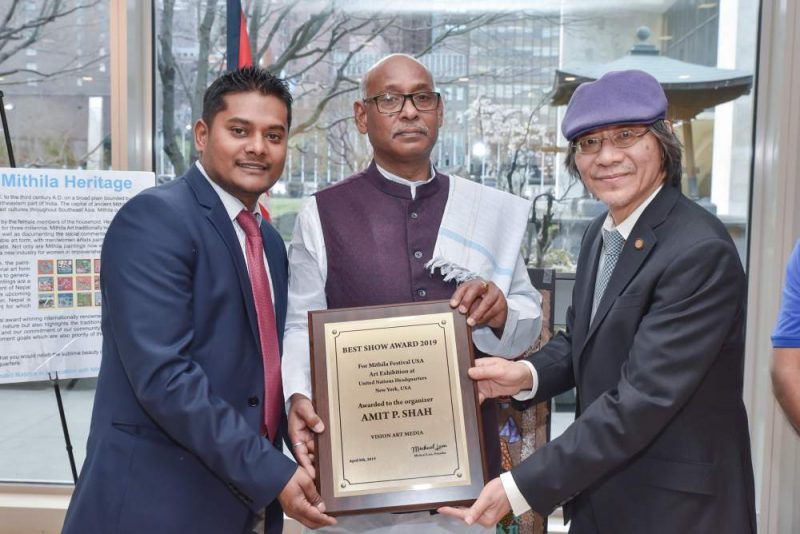 Speaking in the opening of the exhibition, Ambassador Amrit Bahadur Rai, Permanent Representative of Nepal to the United Nations, welcomed all guests and highlighted the importance and relevance of Mithila art in the SDG era. The Ambassador said that the purpose of the event was to showcase the richness of the Mithila art and its utility in the implementation of SDGs.
Also speaking in the programme, Mr. Lal Kishor Sah, Mayor of Janakpur Sub-Metropolitan City, said that the exhibition was timely and relevant in the context of SDGs implementation. He added that the Mithila art paintings "demonstrate not only our commitment but also our community's cultural base for the promotion and realization" of SDGs.
Permanent Representatives and other diplomats of various countries and representatives of the Nepalese community in New York were present on the occasion.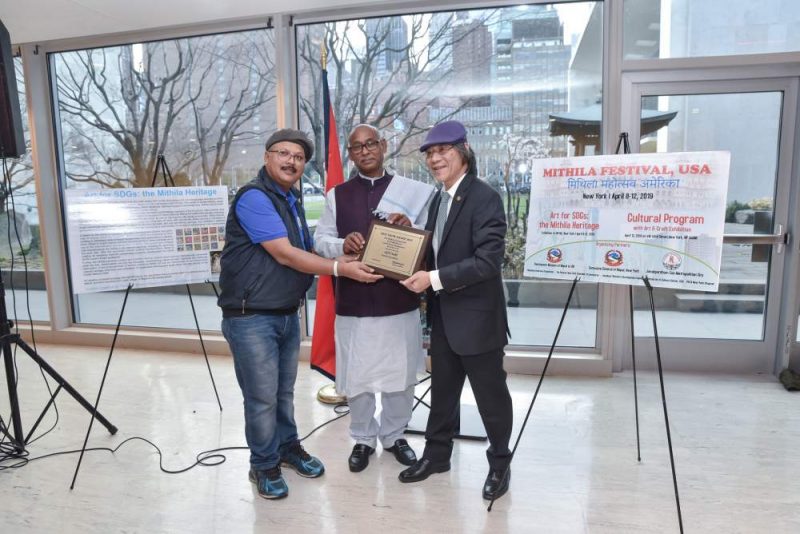 Mithila Art has been known to exist for centuries and they are drawn by the female members of the household. Here, women have passed the art and tradition of wall painting from mother to daughter for three millennia. Mithila Art traditionally narrates mythological and religious events, and also, they are used for decoration as well as documenting the social commentary. More recently, Mithila painting have taken up as a more contemporary and collectable art form, with men/women artists painting on canvases of rough handmade paper that is similar in texture to the mud hut walls. Not only are Mithila paintings now exhibited in galleries across the world, but more importantly the art has also opened up a new industry for women in impoverished rural communities.
closing ceremony with Mithila Cultural Program with Art & Craft Exhibition will be held on April 12, 2019 at 4 west 43rd street, Marahattha, NY 10036. The closing ceremony will be hosted by Consulate General of Nepal, New York in association with Nepalese American Foundation, Janakpur Sub-Metropolitan City, Greater New York Chamber of Commerce, PATA New York Chapter and Nepalese AmericanCommunity.
Being born and raised in Mithila Culture society, I am blessed to have opportunity to initiate and organize first ever MithilaFestival in USA with the objectives to promote Mithila Arts & Culture heritage. My dreams coming truesince now it's happening in reality and from bottom of my heart, I take this opportunity to express my sincere gratitude to all those involved directly or indirectly in organizing this historical event.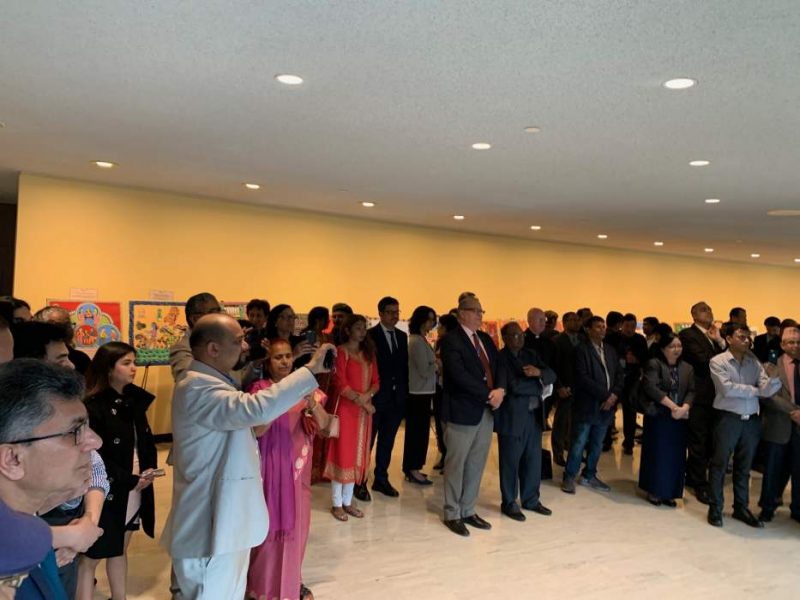 First of all, I would to thank the Nepal Government for entrusting us to organizethis prestigious event in New York. In this connection, I am grateful for the support provided by the Permanent Mission of Nepal to United Nations and entire team for organizing the exhibition entitled 'Arts for SDGs: the Mithila Heritage' at UnitedNations Headquarter from 8-12 April 2019. I would also like express my sincere gratitude to the Consulate General of Nepal, New York for hosting the closing ceremony and also providing all underlying support.
I extend my sincere gratitude to the mayor of Janakpurdham for his support & consent to be chief guest of this event in spite of his busy schedule.
In this connection, I would like to remember Ms. Claire Burket, an American national, for her effort to promote Mithila art and empowering local women by establishing Janakpur Women's Development Center and her support for several decades and also contributing Mithila arts for this event. I would also like to thank Mr. Ajit Kumar Sah, renowned artist for participating and contributing Mithila artsfor this event.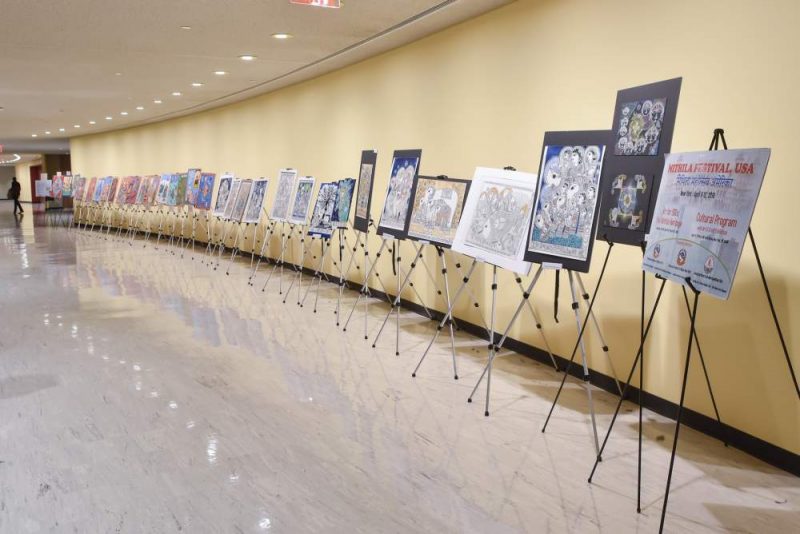 I would also like to thank the United Nations office at Kathmandu, Nepal for providing 17 Mithila arts relating SDGs for this exhibition.My heartfelt gratitude to Mr Nawal Yadav who is the winner of UN Secretary-General Award for the Champion of the Sustainable Development Goals for mentoring and guiding me to organize this event.
Last but not the least, I express my sincere thanks to all community members and institutions for the cooperation, participation and support provided to make this event successful.
Hope you all enjoyed the event and continuously provides all yours feedback, suggestions & support to make this event grand in future endeavors.
Sincerely,
Amit P.Shah (AP Sah)
Founder & Executive Director
Mithila Art & Cultural Center / Mithila Festival USA
Ph: 347 863 6058