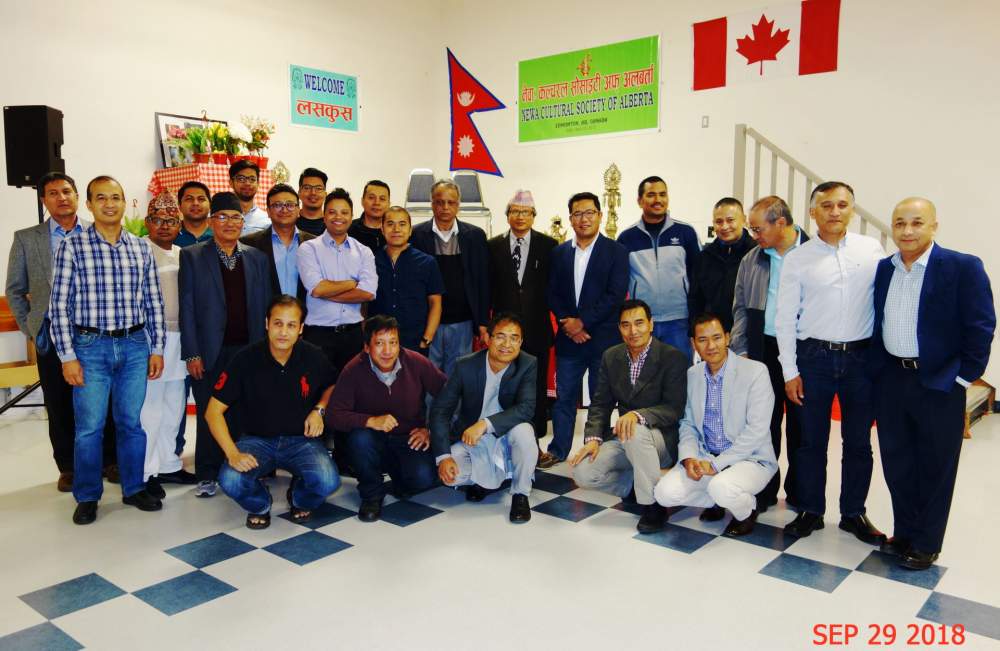 The Nepalese community living in Edmonton, Canada observed Gun Punhi (Kwati Punhi) and Yenya Punhi (Indra Jatra) festivals amidst a special cultural event at Duggan Community Hall on 29th September 2018.  The cultural event was organized by Newa Cultural Society of Alberta (NCSA), a local organization to practice, promote and preserve Newa culture and traditions in Edmonton, Alberta, Canada.  Meanwhile, Gun Punhi festival is also known as Kwati Punhi as in this festival people drink Kwati, a special ethnic soup prepared from nine varieties of soaked beans.  Yenya Punhi festival is also known as Indra Jatra as this festival is mainly dedicated to Indra, the king of heaven and the god of rain.
The cultural event was jointly inaugurated by Dr. Hemanta Joshi, President of NCSA; and Mr. Dwarika Nath Shrestha, a senior member of the community.  The inaugural ceremony was followed by an auspicious Puja (worship) of Ganesh (the god of beginnings), Bhairab (the god of strength) and Indra offering flowers, fruits, sweets, yogurt, Khaye (holy drink made from yogurt), and Samay Bajee [a unique Newa ethnic food comprised of Bajee (rosted beaten rice), Syabajee (roasted puffed rice), Khen (fried and boiled egg), Wo (ethnic pancake cooked from black lentils), Nya (fried fish), Choyela (roasted spicy meat), Simpu (boiled spicy kidney beans), Bhuti (boiled spicy black eyed beans), Mushya Wala (roasted spicy black soya beans), Lava Palu (fried and sliced garlic and ginger), Wauncha (boiled and spiced green vegetable), and Aalu Wala (boiled and spiced potatoes)].  An Aarati (part of Puja in which oil light from oil light holder is offered to the deities) was also offered to deities lightning oil lamp and burning the incense.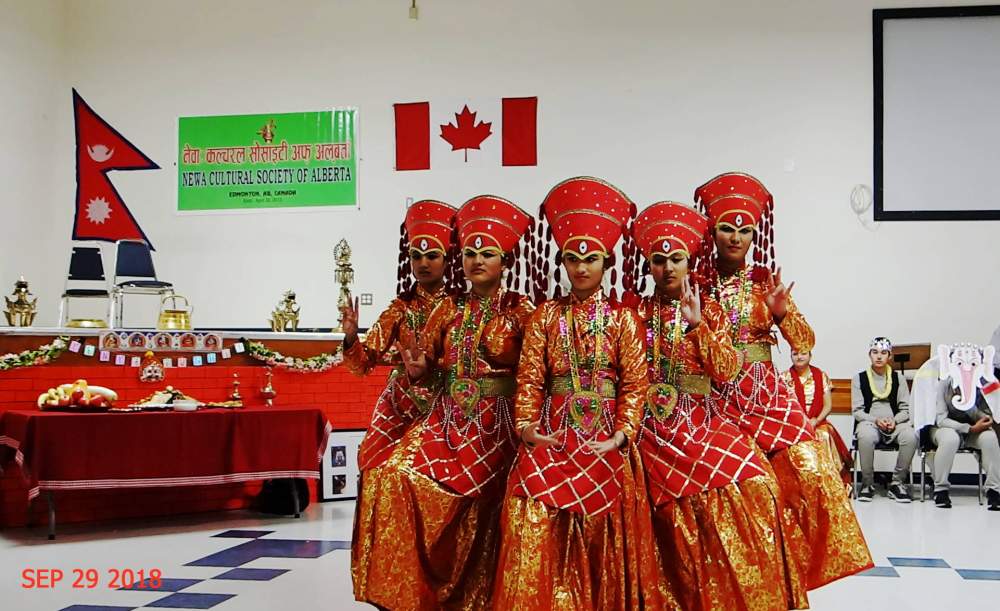 After the Puja, Dr. Hemanta Joshi, President of NCSA, welcomed all the guests and participants and highlighted on the importance of Gun Punhi and Yenya Punhi cultural festivals.  According to Dr. Joshi, both the Gun Punhi and Yenya Punhi festivals have social, cultural and historical significances in the society.  On the day of Gun Punhi, Newa people in the Kathmandu valley visit nine different Buddhist shrines in the morning before enjoying Kwati.  According to Dr. Joshi, the eight day-long Yenya Punhi festival begins by erecting a 36 feet wooden pole decorated with Gajur (an architectural ornament) and a Indra Dhoja (a long and wide flag dedicated to Indra) in the court yard of Indrapuri temple at Hanuman Dhoka amidst a special religious ceremony in the morning.   During the festival, there will be mask dance performances of deities and demons and demons will be defeated to show victory over evil.  Another important part of Yenya Punhi is the Kumari Jatra, the chariot procession of the living goddess Kumari, a human representation of goddess Bhagabati, for three days.  In the cultural event, Mr. Dwarika Nath Shrestha also briefly talked about the Indra Jatra festival celebrated in Kathmandu and Patan.  He also praised the activities of NCSA in maintaining and preserving Newa culture and traditions in Edmonton, Canada.
In the cultural event, participants were served with a bowl of Kwati and delicious Samay Bajee as part of commemorating Gun Punhi and Yenya Punhi festivals.  Participants were also entertained with vivid cultural program (drama on Indra, Kumari Charya dance, Lakhey mask dance, and live Newa concert) performed by local artists.  A cultural quiz related to Indra Jatra was also conducted to raise cultural awareness among participants during the cultural program.  At the end of the cultural event, an ethnic dinner was served to all the participants.